There are many exam software solutions out there, so it can be tough to figure out which one best suits your needs. Numerous software comparisons that you find online can only make it more confusing. That's because most of them will only highlight the features without giving any additional information about how particular tools work in practice.
That's why we've created this comprehensive list of top online exam tools you can use to evaluate and grade your students. Let's have a look.
ProProfs Exam Maker Software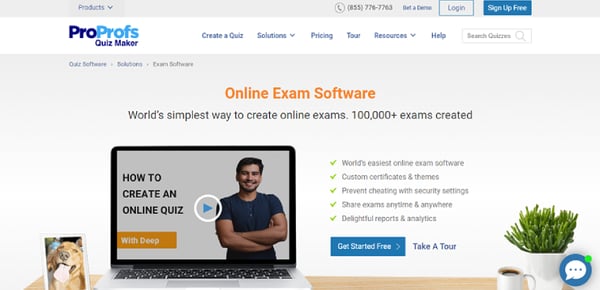 ProProfs Exam Maker Software is one of the most popular tools for creating exams. Its visually-appealing, uncluttered layout makes it easy to navigate your way through and create exams or tests from scratch.
Many refer to it as a quiz builder, and they're not wrong, as you can use templates for scored quizzes to create exams and tests. The software offers more than a million searchable exam templates, so you can quickly find what you need.
You can edit them, add new questions and answers, randomize their order, and make exams more engaging with images and videos. You can even create multi-sectional exams and set separate grading for each section.
You can customize everything from colors, design, and logo to scoring, results, and completion certificates. You can set timers, limit exam availability, make exams password-protected, and prevent cheating with a host of security settings.
This exam software also comes with delightful reports and analytics to track students' performance and share personalized feedback.
Test Invite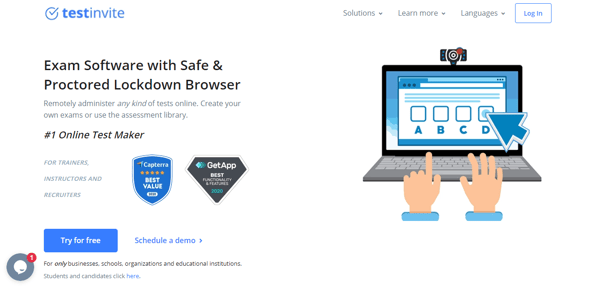 If preventing cheating is your top priority with exam software, then Test Invite might be just what you need.
It enables online exam proctoring, thanks to webcam and screen recordings. You can watch your students as they're taking an exam, or you can monitor their progress with real-time photo monitoring.
There's also a proctored lockdown browser, which enforces fullscreen mode during exams to prevent students from opening other tabs or launching other apps.
You can set time limitations, shuffle questions, create weighted scores, add multimedia files, load test norms, generate custom reports and certificates, and much more. The software is rich with useful features.
Another feature worth mentioning is the math editor for writing equations, symbols, and expressions, and a code editor that supports 50+ programming languages. You can make exams without it, but you can style them nicely if you know how to code in CSS.
Pesofts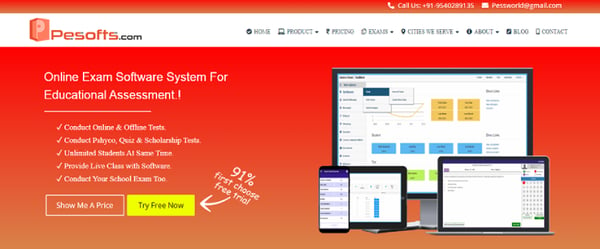 Pesofts also enables real-time proctoring to prevent cheating. It allows unlimited concurrent live tests, as well as conducting live classes and offline tests.
Its intuitive and interactive test panel is AI-powered and features face recognition technology. It lets you upload questions and answers, set high-speed exams, generate performance reports, import and export exam data, and customize exams with responsive themes.
This tool even allows you to sell your exams seamlessly. It includes a secure payment gateway and a token system for providing tokens or coupons to users.
It doesn't have a wide range of features, but there's everything you need to create secure and effective exams. It's also quite affordable.
Think Exam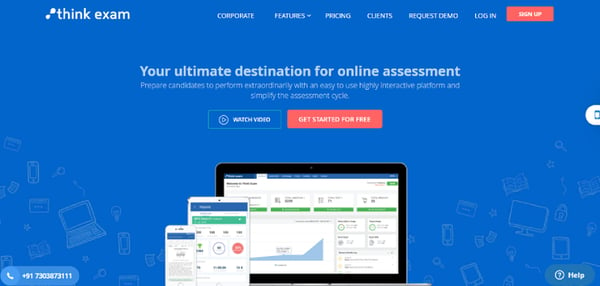 Think Exam's highly-interactive interface makes creating exams a breeze. Everything's straightforward; there's active accessibility, an advanced reporting system, smooth registration, and a synchronized user interface.
There's a question bank with unlimited questions, which you can enrich with images and complex mathematical equations. You can customize tests in multiple ways, create scoring schemes, and shuffle sections, questions, and answers for anti-cheat purposes.
Another anti-cheat measure is screen freezing, which blocks students from switching to other tabs or apps during an exam.
The software's in-depth reporting features enable both you and your students to track their performance in real-time. There are subject, solution, and question reports, as well as detailed scorecards.
There's a host of other reports on your end for assessing exam takers and many other useful functionalities. Monetizing your exam is also an option.
ConductExam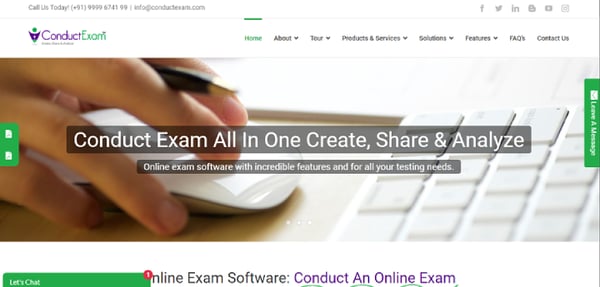 ConductExam is a powerful online exam software with a very user-friendly interface. It allows both online and offline tests.
It lets you create unlimited exams in various formats and select questions from its question bank. You can also upload your own resources, including multimedia files.
You don't have to worry about cheating, as there's face recognition, ID and live authentication, and real-time online proctoring. Grading is automatic, test reports are detailed, and students can also analyze their performance by comparing various reports.
This exam software also features an online store, where you can sell your exams. You can generate discount coupons and vouchers and your referral codes for discounts on your offer.
ClassMarker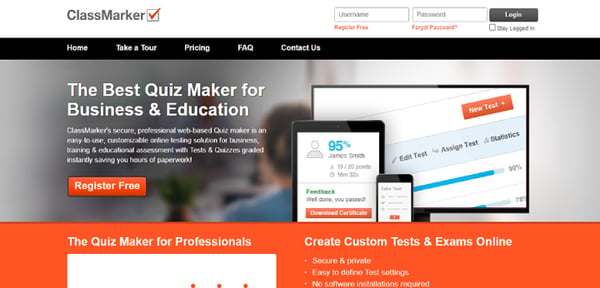 ClassMarker is another easy-to-use online exam maker that you can use to create, conduct, and sell quizzes, exams, tests, and online courses.
It's web-based, offers unlimited exams and questions, has a question bank, and allows importing new questions and multimedia.
It lets you set time limits, the number of attempts students can have to give the right answer, randomize questions and answers, set pass marks, create custom certificates, automate grading and results, brand your tests, and much more.
You can make tests password-protected and register users via groups. Once they finish an exam, you can view and share detailed reports showing scores, duration, start and finish time, statistics by category, and other useful performance analytics.
This exam software is available at no cost for educators.
QuestBase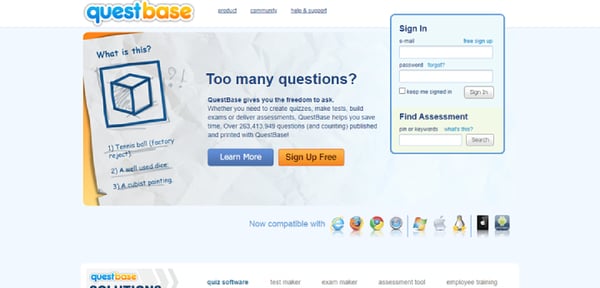 If you're looking for a simple exam, test, assessment, or quiz builder to create and deliver tests quickly, check out what QuestBase has to offer.
It has loads of security options, customizable layouts, multiple question types, simple sharing features, and real-time reports. If you have your own assessment materials, you can import them easily from external files.
The built-in editor makes creating and customizing exams a breeze. It supports randomization, math equations, multimedia, interactive quiz elements, custom hints, different scores, timers, statistical charts, and many other great features.
It's a huge time-saver that requires no technical skills. The setup wizard can walk you through all the steps to help you build excellent exams from scratch.
ExamSoft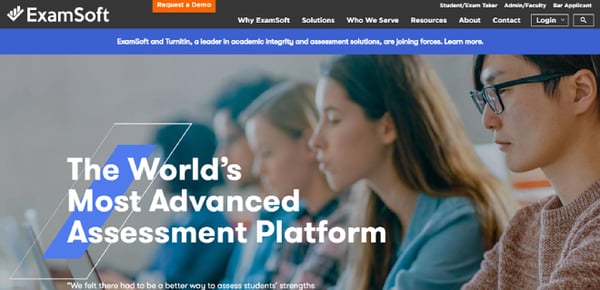 ExamSoft is an advanced assessment platform that can help you maximize your students' learning. It gives you detailed insights into their knowledge that you can use to share personalized assessment feedback.
It also has various AI-powered anti-cheat measures. It has ID authentication and question randomization, disables exam takers' Wi-Fi and navigation to other tabs or apps, and enables remote proctoring with real-time video and audio monitoring.
Creating, administering, and grading exams with this tool couldn't be simpler. You can import questions, divide them into categories, customize scores, and even pinpoint potential gaps in your curriculum. The software provides tips for improving your exams.
Have you used any of these exam software solutions yet? We highly recommend taking them for a free spin to play around with their features and make the right choice based on experience.
Author Bio
Angela White is an ed-tech enthusiast with a passion for writing for the consumer market in the areas of product research and marketing using quizzes and surveys. Having a knack for writing and an editorial mindset, she is an expert researcher at a brand that's known for creating delightfully smart tools such as ProProfs Quiz Maker.