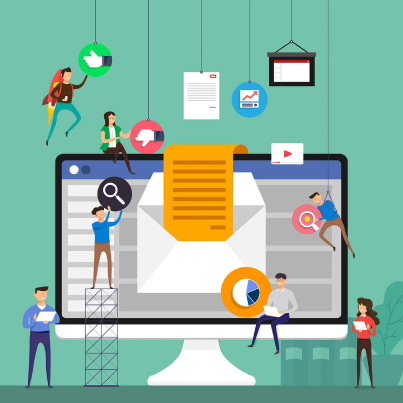 Email marketing is something that has been around for a while already. There are many people out there who believe it to be dead, however, statistics beg to different. A recent study by Statista shows, that just in 2017 the total number of email users was somewhere around 3,7 billion and by 2021 this number is predicted to get higher than 4 billion. At the same time, the general number of email's ROI is 122%, which is a few times more than any other marketing channel, even the popular these days social networks.
As you see, email marketing is not only not dead but rather thriving. Why is it happening though? Email marketing provides a list of very compelling benefits:
It allows direct sales;

It allows automatization of the sales process;

It teaches customers how to use the product;

It allows you to share other types of content through emails, such as blog posts, social network posts and such.
Marketing and Personalization
Customers became very demanding lately, especially when it comes to personalization. They are no longer satisfied with getting decent quality goods for a decent price. Quality service became the center of the show, business strategies turned to be customer-centric, and personalized approach is something that you can no longer ignore.
When it comes to email marketing, personalization starts playing an even bigger role, as it still remains to be one of the main channels of communication between the company and the customer. It is a pity, though, that not everyone by now knows how to personalize emails and make them look more appealing.
However, before we get to that, let's focus more on the important numbers that you, as a professional in this industry, must be aware of.
Increased Responses
People love feeling like they are the center of your sales strategy and if you actually want to sell them anything - it is best that you make them believe that. Statistics prove that by adding some personalization to your emails the chances that you will get a response can grow by 20%.
Increased Sales
Emails to your customers are usually the surest way of making them buy anything from you. According to HubSpot, nearly two-thirds of all interviewed customers made a purchase from a company after receiving an email from them. This way by making your emails personalized you have an easy opportunity to drive up your sales as well.
Leads Qualification
Not every lead you will receive you can instantly qualify. In fact, only about 20% of all leads that your sales department will receive, will be properly qualified. To get to know your potential client and whether or not they will be a great match for your products or services you will need further qualification. Personalized emails are a sure and quick way to get to know a potential client and persuade them to become an actual one.
Increased Customer Satisfaction
According to Liveclicker, 55% of customers are more likely to open an email and make a purchase if they keep receiving relevant offers from companies. So keep in mind that it is not only the quality of your goods and services that matters but also how well you manage to offer them to your customers.
Increased Customer Conversion
As you can see from this data, it is email personalization in particular that influences the 58% of chances of people becoming your customers. Days of geotargeting and segmentation are long gone, pay attention to your email texts. Some companies even prefer to use specialized services for this occasion, such as TheAdsy.
Email Personalization 101: Tips and Tricks
After reading all these impressive statistics you are probably wondering how it is possible to actually achieve those numbers and goals by personalizing your emails? Let us give you a few tips:
Add a relevant picture. It could be an introductory picture to show your customers your or your team's face. It is an especially good idea when you are dealing with some B2B companies that usually are really into personalized approaches.

Add a relevant video. It can be a great way to start communication. Video emails can also be a tremendous help in customer support while trying to explain something to the customer, at the same time making them feel valued.

Make the feeling of a real conversation. The biggest problem with most emails is that they feel pre-written and insincere. It is hard to imagine that there is a real person behind those lines. Try to add some personal touch to the text, maybe add a joke or two, or show some empathy. The key moment here is to make it look relevant.

Keep saying 'Thank you'. Trust us, any customer would be happy to receive a 'Thank you' letter, especially if they do not expect that. Such a nice touch will make them feel important and appreciated, adding more to their loyalty to your brand.

Add gifts and discounts. We are not talking about major discounts, but little personalized offers every now and then can significantly improve your overall sales statistics.

Personalize offers. You can use some sort of automation tools to make sure that your customers receive offers from you according to their gender/location/age/etc. Include as many characteristics as possible so that you will be able to impress even the most skeptical customer.
So, there you go, now you have some ideas on how to make your emails look more personal. Do not hesitate to use canned responses as well, with just the right amount of customization they can save you plenty of time and effort.
Final Thoughts
As you see, email personalization can be highly beneficial for any type of business. With the proper approach, it can be a powerful tool for increasing your revenue and customer count. Hopefully, this article was helpful in terms of giving you an approximate direction on your way of giving your emails a bit more customized look.
Marie Barnes is a writer for Bestforacar and an enthusiastic blogger interested in writing about technology, social media, work, travel, lifestyle, and current affairs. She shares her insights through blogging. Follow her on Medium.