When it comes to inbound marketing platforms in vogue today, very few solutions can hold a candle to HubSpot. The founders of this Massachusetts based technology company literally wrote the book on Inbound Marketing and pioneered the concept of gaining customers by creating customized content and experiences. Today thousands of companies use HubSpot, from mom and pop stores to giant corporations. The platform is a breeze to use and offers a range of solutions for different needs like Marketing, Sales, and Customer Service.
As opposed to typical automation platforms that just try to sell you software, HubSpot comes with tons of guidance material, detailed courses, and insights that are designed to help you grow your business. In fact, for many small businesses, it can take care of all their marketing needs from hosting their blogs, posting on social media to remarketing from within one single application. However, its specialty is marketing automation, which involves gaining leads, nurturing them over a period of time, and converting them into customers. Let's look at 5 effective ways to use HubSpot marketing automation to grow your businesses.
Targeted Marketing Strategy Based on Buyer Personas
HubSpot allows you to create Buyer personas based on attributes of your customers and further allows you to target content and outreach tailored to each persona you create.
Buyer personas are essentially a representation of your most likely customers based on a mix of real data, business inputs, and market research. For example, if you run a real estate consultancy firm catering to high net worth individuals in California, you can have a semi-fictional persona representing CEOs or Start-up founders looking for high-end property. You can assign them a fictional name, possible age bracket, gender, and preference traits. For example, such a persona can be Tom, between 25 to 45 years old, highly successful, moneyed, looking for a property to showcase his success.
HubSpot also provides you with a free tool for creating such personas, which you can try out to get a hang of the concept.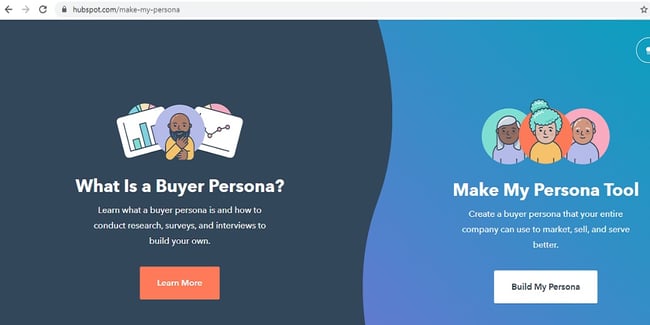 Source: HubSpot.com
Once you have created different personas for your business you can look to personalize the experience they have when they interact with your content. For example, for our fictional Tom persona, you might showcase such prospects with a story about successful CEOs taking up elegant beachfront properties at a certain location. Different content outreach efforts, virtual events, and conferences tailored to prospects of a particular persona can be created and the contacts can be effectively nurtured.
Achieve Efficiency
HubSpot allows you to efficiently run your entire marketing activity without jumping between different tools. This can be best understood with an example. A small business owner most likely hosts his website on WordPress or a similar content management system. He then manages contacts and email blasts with an email marketing service. For social outreach, he needs to schedule posts on Facebook, Instagram, and other such platforms. If he is looking to retarget people who have visited his website, he needs to manage the Google Ads platform too. If that was not all, to observe how his efforts are showing results, he would have worked with Google Analytics too.
HubSpot takes the pain out of marketing for small businesses and even mid-sized firms. Your entire website can be hosted on HubSpot, emails sent right out of it, social posts can be scheduled, and remarketing too can be activated from inside the tool. Detailed analytics are available within the tool and one can get a bird's eye view of how every activity is performing.
Harness the Power of Automation
With HubSpot you can build detailed workflows and plan action points based on interactions of your prospects with your content on different digital touchpoints. You can create separate workflows and designate different enrolment criteria for each of them. From creating schedules of emails to be sent to designing if/then condition based branches, HubSpot can be used to layout an intricate map for engaging a prospect throughout his journey.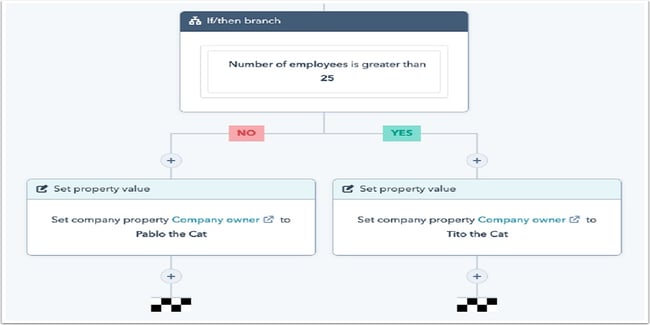 Source: HubSpot.com
In HubSpot you can also create internal notification and alerts based on actions taken by a prospect. For example when a prospect fills in a form for a callback or joining an event, an email notification, and even an SMS message can be sent to the relevant team to engage with the customer.
Conversion Rate Optimization
HubSpot is an incredible platform for anyone looking to increase the conversion rate for their business. For starters, one can quickly create CTAs within the blog posts that one creates in HubSpot. It also allows you to customize landing pages based on A/B testing. Detailed workflows, remarketing, the capacity to integrate elements like SMS marketing, live chat features also help in increasing conversions. You can effectively nurture your leads, add scores to them and only hand them over to the sales team when interest has been properly noticed.
Reduce Marketing Costs
In absence of marketing automation, a lot of repetitive tasks have to be undertaken manually. This would force you to hire more resources and take on additional cost burdens. Some of these costs may be pure overheads related to tax pay-outs and office space, which can be greatly reduced if you have a small team.
With HubSpot, you can handle a host of marketing activities from a single platform. Hence you do not need to hire specialized resources to handle different tools. For example, a mid-sized company will typically hire an analytics expert to manage Google Analytics, create dashboards, and possibly even work with Google Data Studio. With HubSpot, this role can be assigned to the marketing manager as all relevant analytics can be pulled out of the platform itself. Apart from reducing resource costs, HubSpot allows you to make savings on software costs that you would otherwise spend in procuring a CMS, social media scheduling tool, CRM, etc.
Final Thoughts
If you are struggling with your marketing efforts or are looking to increase conversion rates, definitely check out HubSpot. The company also offers a marketplace where you can find apps to integrate with many popular tools.
In addition, an Asset Marketplace is also available with email themes, landing page templates, blog designs, etc. to help you jumpstart your marketing campaigns.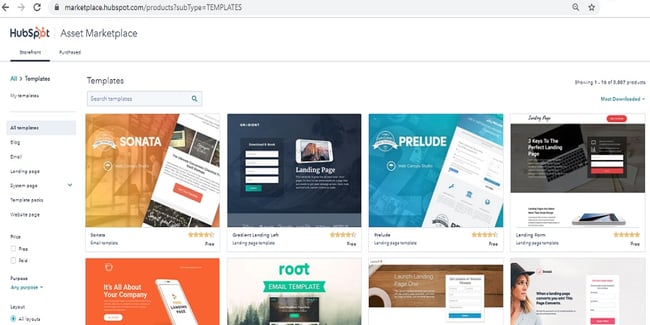 Source: HubSpot.com