Summary: this article explores the inner workings of inbound marketing as well as three main implications of adopting the technique for your SaaS company, i.e. growing as an authority figure, converting visitors and retaining customers.
Inbound marketing is the technique for drawing customers that focuses on getting them to come to you. This might sound challenging, considering people nowadays have more choices than ever before, but if done right, it's worth the effort.
When doing marketing the inbound way, instead of broadcasting yourself to the customer, you're letting them come to you.
In this article, we'll be exploring how that works along with the implications of adopting the technique for your SaaS company.
Inbound History
Hubspot first coined the term in 2006, as a method of attracting, engaging, and delighting people to grow a business that provides value and builds trust.
Source: Venngage Inc.
Since then, the methodology has blown up and has been the underlying reason behind the success of many startups around the world.
The inbound method is based on four simple steps.
First, you attract and nurture leads through appealing content (blog posts, social media, newsletters, drip campaigns, etc.) that ranks in search engine results. Then, you convert them with a specific call-to-action or a landing page. Next, you close the deal and turn them into a customer. And finally, you create a stellar post-purchase experience and keep them coming back for more.
Though these steps sound simple on paper, it's worth noting that inbound marketing, like content marketing, has a long-term ROI and might take some time to kick in.
This is the step many people give up on. But it's important to be patient when you're focusing on content marketing and SEO. If done right, inbound marketing can skyrocket the success of your startup.
It's a proven system that works for all the best companies around the world and has helped many startups succeed. So, with that said, here's what you need to know about using inbound marketing for your SaaS company:
1. Becoming an authority figure
One of the biggest advantages of inbound marketing is positioning yourself as an expert within your niche. When writing original and important contact, you're essentially giving away your knowledge as a business owner for free. And when you do this, two things happen:
First, you're building trust and establishing relationships with your ideal customers.
Content is a great way to bridge the gap and eliminate any hesitation your visitors might have. By placing their best intentions as the core of your content, you're on the way to building a great relationship that is likely to lead to conversions later on.
Guiding interested leads to targeted content is one of the best ways you can convert them into customers. It's important to look at content from your customers' perspective. Give them something they're guaranteed to enjoy.
Think about it like this: what does your buyer persona look like?
Now, ask yourself: are you writing content specifically tailored for them?
Of course, it takes time to build trust, so, giving away helpful content is a sure way for them to come around your side. Instead of plastering call-to-actions and sign up links everywhere, give away your best content for free.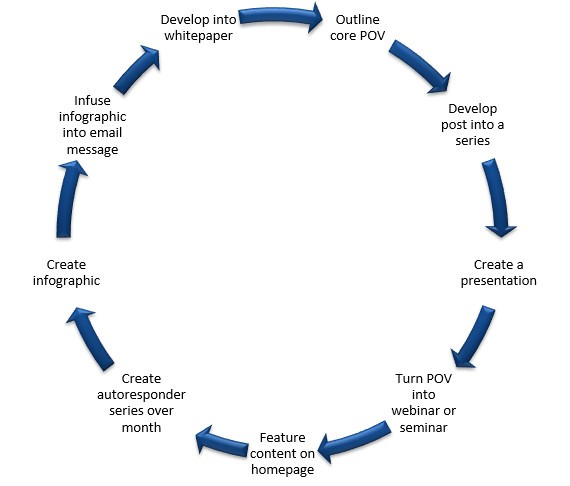 Source: Patrick McFadden
Research shows that individuals are more likely to trust people they consider to be an expert in the field. Building trust and authority is the first step towards a successful sales conversation.
So, forget about getting them to sign up at first. Instead, warm them up to your blog: get their emails, offer helpful content they're going to enjoy (based on their persona), and offer exceptional customer support.
The better your content - the faster they start to trust you.
Once you've captured their attention and sparked a relationship, you can move onto the next step -
2. Converting - the inbound way
Getting visitors to your website, and making sure they stay there, is the first step of the inbound process. Now comes the important part.
After attracting customers to your services through your content, you want to eventually convert them. The inbound way of doing this is through a lead magnet.
Let's zoom in on lead magnets a bit more, because if done right, they can set you up with organic traffic who come to your site with the intent to sign up!
Lead magnets usually look like any of the following in the inbound marketing processes:
Newsletter
Free consultation/trials
A free discount/coupon
Free E-books/PDF guides
And more
Most people simply have a form at the bottom or the side of the page to get visitors to sign up and stay updated. You can also offer a limited offer or a PDF E-book in exchange for their email.
Though, it's worth noting here again that the name of the game here is value. Customers get bombarded with free e-books and PDFs every day, you have to stand out and actually be useful.
Once you've attracted someone to your site the organic way - the next step you should focus on is the user experience.
In other words - they landed on your site, what now?
If your site is intuitive and easy-to-understand, visitors should know where to go (preferably following the CTA at the end of your article) to learn more or book a demo.
Most SaaS markets are crowded with competitors providing different solutions. This means your customers might be suffering from decision fatigue.
It's your job to make the lead-converting process as smooth and as painless as possible.
3. Retaining customers
Did you know that it can be anywhere from 5 to 25 times more expensive to acquire a new customer as opposed to retaining a current one.?
While repeat customers might come to buy from you again (after a certain point), loyal clients don't have to make that decision and never leave in the first place.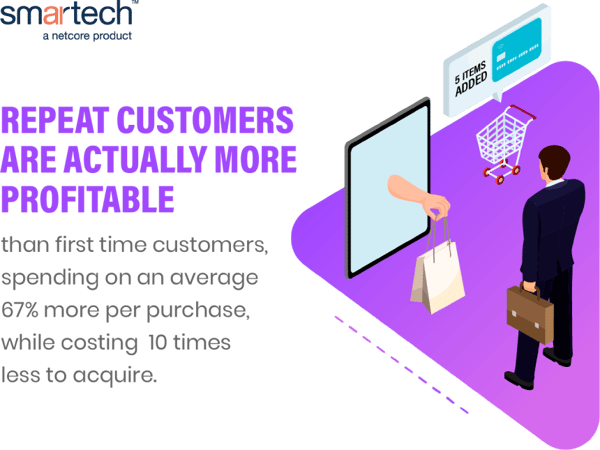 Source: ArtPlusMarketing
You know you've acquired loyal customers when they love your brand, in addition to just your product.
To turn your repeat customers into your forever customers, look at how they interact with your brand and reward them.
First, prioritize exceptional customer service within each touchpoint they have with your brand (social media and b2b marketing tools, emails, etc.). If the response is positive and you can turn a bad customer experience into a positive one - look into providing incentives and rewards to keep them coming back for more.
One of the best ways to directly instill loyalty among your clients is to reward them for being with you for so long.
In fact, companies with strong loyalty marketing programs grow revenues 2.5 times faster than competitors and generate 100-400% higher returns to shareholders. Not only that, but they're also more likely to provide a direct word-of-mouth reference as well. Three cheers for increased social proof!)
All this, of course, as long as you're providing value and incentives for them to choose your brand over others.
Conclusion
Marketing or selling a SaaS product/service is a complex task. So is being able to attract and convert prospects when there's so much competition and alternative choices.
Being able to convert leads that take an interest in your product is essential if you want to eventually scale up. Inbound content marketing is a great way to increase your reach, and get customers to fall in love with your brand.
Look at your brand as a person and make sure each interaction with your customers is natural.
Have natural and real interactions with your prospects, with no added ulterior motive other than providing value - and your customers will return the love.
Customer feedback and communication are essential to growth.
Listen to what they're saying and as long as you're improving your brand based on real feedback - you're guaranteed to succeed and attract loyal customers.
About The Author:
Hardik Oza is an SEO practitioner with more than 9 years of experience. He helps companies to grow their businesses. He shares his thoughts on additional publications like SEMrush, Search Engine People, and Social Media Today. Follow him on Twitter @Ozaemotion.