Inbound marketing is a newish paradigm that was created for the digital world specifically. Its goal is to promote your brand on the Internet.

This type of marketing serves to help businesses acquire customers online by building strong relationships based on a win-win concept.

But how to succeed with inbound marketing in practice?

In this guide, you will get familiar with this marketing closer. You will find out eight tips that will help you run an inbound marketing campaign successfully.

Let's get to the meat of this topic!
The Difference Between Inbound and Outbound Marketing
Inbound marketing is the opposite of outbound marketing.

Outbound marketing is focused on pushing a product or service to a target audience. It happens via sending cold emails, making cold calls, and using other pushy techniques.

In contrast to this, inbound marketing aims to interact with the audience. It needs you to create content that the prospects would be able to find whenever they want.
How does inbound marketing work?
Inbound marketing consists of three stages. These stages were suggested by Hubspot. Let's review them.


Attract. At this stage, the task of inbound marketing is to find and connect with niche-related prospects.
Engage. The focus of this stage is to raise the problem your potential customers might have. Explain the essence of the problem and how you can help them solve it.
Delight. Let people know that your product is the solution to the problem they have.

To sum up, inbound marketing helps you attract new prospects, engage, and convert them into paid customers. If your inbound marketing campaign is successful, your loyal customers become ambassadors. They start to push your product into the masses by promoting it heavily.

So, how to run your first inbound marketing campaign?
Right before getting to the actual tips, you should realize how inbound marketing is powerful.
Results You Can Expect to Achieve Applying a Smart Inbound Marketing Strategy
Inbound marketing is the foundational approach to promote business online. It helps companies let more people know about their products and attract potential customers online through content.

Is it effective?

Let's find out by exploring an example of the company Visme.

Visme blog generates 481K organic traffic monthly.
Many third-party independent resources recommend Visme as one of the best visual content creation tools.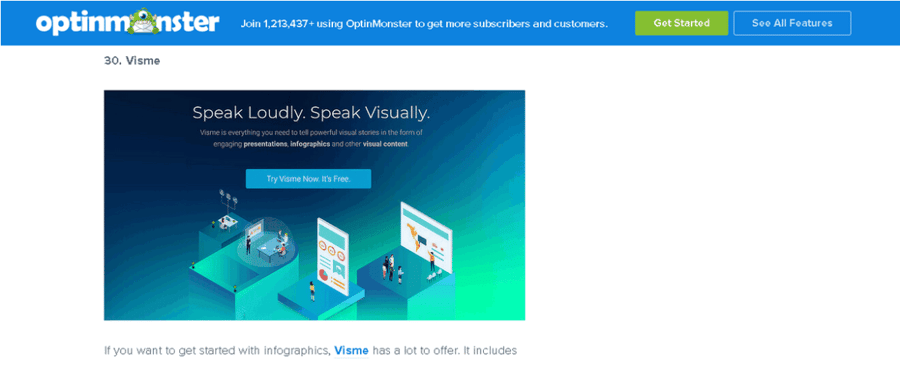 These are only a few examples of what inbound marketing can do for your business.

Now, let's get back to the question - how to run the first inbound marketing campaign?
Inbound Marketing Tips to Be Armed With
As has been already mentioned, an inbound marketing campaign consists of three stages - attraction, engagement, delighting. Each phase involves specific tips that create the entire inbound circle.

By the way, an inbound marketing strategy can remind a marketing funnel. However, it doesn't stop at the last stage.

Let's start with the first stage - attraction.
1. Attraction
The attraction stage includes three tips. These tips will help you do everything possible to attract potential customers. You should know that the tips work only with content. Hence, content marketing is an integral part of the entire process.
Search Engine Optimization
Don't be surprised but SEO is tip number one.

Why does SEO play a significant role in the inbound marketing strategy?

SEO helps you optimize content that would drive traffic to your site. And the main point here is to make your content get traffic constantly.

Sounds like an easy-peasy task, doesn't it?

Nope, it is not as easy as it seems.

You can create whatever content you want. It will get an instant burst in traffic right after publication (spike of hope). Unfortunately, traffic will start to fade away with time (flatline of nope).

Source
How to create content that would attract traffic long-term?
You should cover topics that people are searching for in Google. These topics should be niche-related and interesting to your target audience. When your content ranks in Google, you will receive consistent passive organic traffic. This traffic tends to grow from year to year.

How is it possible to create content that generates traffic?

You need to explore topics with search traffic potential. To find these topics you will need to conduct keyword research beforehand.

For instance, you want to create a piece of content related to content design. Go to the Keyword Generator tool and enter one of your niche-related search queries, like graph maker, make an infographic, create a chart, flowchart creator, etc.
Draw attention to the "Phrase match" report. It will reveal topic ideas and how much traffic they can drive to your site.

When you have identified the topics for future content, your next step is to create it. To create ranking content, it needs to pass the following requirements:


Relevancy. Keep in mind your content must align with the search intent of the target audience.
Comprehensiveness. Since content aligns with search intent, it should cover the topic in-depth.
Uniqueness. Content should stand out from the crowd. Don't create content that your audience has already seen on the web.
Clarity. Write content that would be easy to read and understand.

Afterward, don't forget to place a primary keyword in the title tag.

The final part of the SEO tips to perform is link building.

It is a well-known fact that links are one of the major Google ranking factors. Consequently, if you want to see content ranks high, you will have to build backlinks.

For example, here are the top results for the query email marketing tips.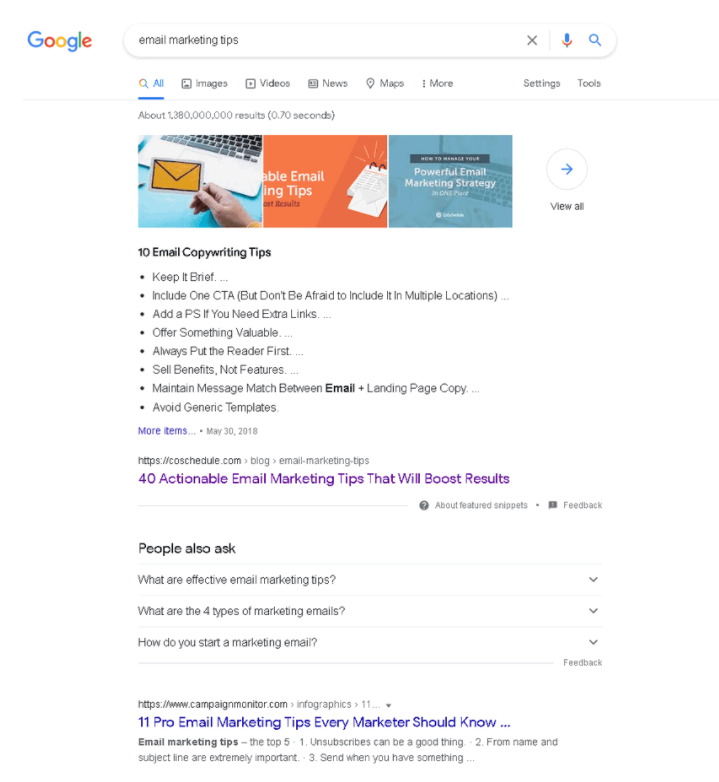 The post from CoShedule has acquired 122 backlinks from 77 unique domains to reach out to the top of Google.

The number of backlinks you'll need to rank high varies. Thus, build as many links as you can.
Podcasting is a quite new but extremely popular way of business promotion nowadays. Especially, it makes sense to participate in podcasts during the COVID-19 pandemic when all people experience lockdown.

How to appear on podcasts?

Go to Google and find some of them. You can do this by using the search command "[niche] + podcasts".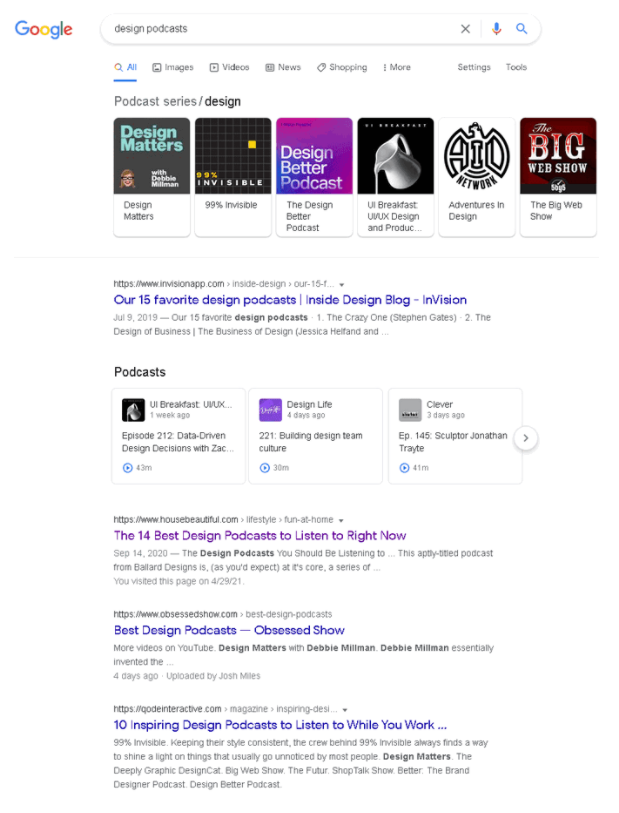 Try to focus on the less popular podcasts at first. If your brand awareness is weak, it will be hard to be featured as a guest on podcasts.

When you find a few podcasts, you need to pitch yourself. Just find the email address of the podcast host and send your pitch. Let the host know that you want to be a guest and suggest the topic for discussion.
YouTube is the second largest search platform after Google. And this is for a good reason.

Video is the most appealing form of content. People like to consume information by watching videos more than reading written articles. That's why video marketing is one of the strategies you must use in practice.

How to create video content that your target audience would like?

The process is almost similar to creating a written form of content. You should start with exploring topics with traffic potential first. Use the same Keyword Research tool from Ahrefs for this purpose.

When the topic for the video is chosen, you can start mastering the video. If you run a YouTube channel, you might need extra customization for your video content. To make the video more engaging, you should use the YouTube video maker tool.

Don't forget to promote your video content. It matters a lot.
2. Engagement
Content can help people understand the issues they might have. Content can suggest the solution to solve the issues. But content can't force people to buy.

Likely, you can continue to engage with the audience further. And nudge people to buy
Start with building an email list. Create a sign-up form on your blog, as an example.

If you think that this ordinary sign-up form looks less persuasive, you can offer something in return. It can be a free eBook, PDF version of the post, etc.

Create a welcome email that users will get once they subscribe to your newsletter.
Practice shows that people prefer to find out how to use something before buying it. Hence, teach your audience how to use your service or product.

How to do this?

By creating educational courses.

For instance, Visme is a company that creates tools to make content visually appealing. They suggest a wide range of different tools. And it is pretty hard to use them right off the bat.

The Visme team realized this issue and they came up with a decision to create educational tutorials and courses.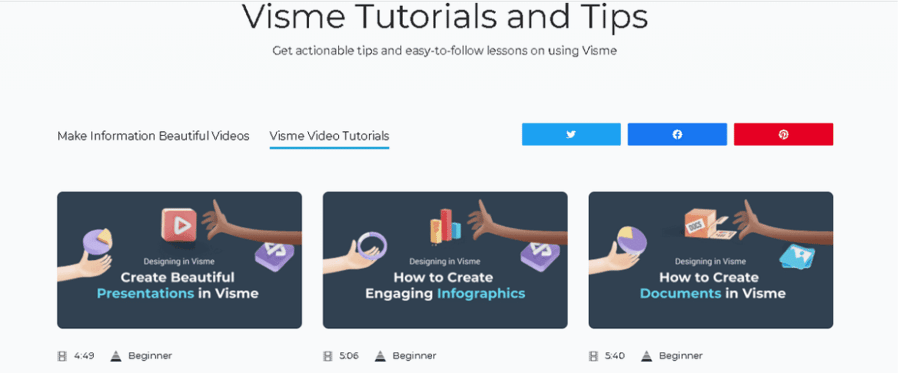 The material is free of charge and everyone can learn how to use Visme's toolkit.

This marketing approach will help you show your attitude towards the audience. That you are interested in helping them solve the issues they have.
Don't kick aside the fact that your potential customers might want to test your service or product for free. Go ahead and give them what they want.

You can offer a free trial or a free lifetime account with a limited set of features. The goal is to let people test the product and understand if they need it.
3. Delighting
The final component of the inbound marketing campaign is to delight the customers.

How to do this?

By offering them a high-quality product. If your product doesn't satisfy customers' needs, there is no point in the inbound marketing campaign you launched.

But if your product helps solve the problems of the customers, you have already won half of the battle.

And here are tips to use.
To satisfy your customers for a hundred percent you will need a live chat 24/7.

Why?

Because you can never know when the customers might have some questions or technical difficulties with using your service. While you must assist.
Create a member-focused community on Facebook or other social channels. It allows you to build more informal communication with the customers.

Customers will be able to give their feedback, communicate with the rest of the community members, and feel themselves a part of the family.
To Sum Up
Inbound marketing strategy leads your online business forward. You can't neglect it. Otherwise, nothing happens except stagnation.

You will apply inbound marketing for your own company. The tactics may vary because every niche has its specification. However, you have just got familiar with the basic tips that work despite the direction of the business.

If you think that the post lacks some more tips, feel free to share your suggestions in the comments.
Author Bio:
Mariya is an SEO consultant and she loves to write attention grabbing content, when not writing you can find her playing her guitar.