Hubspot is an exceptional tool. The system is flexible and powerful while also staying very user friendly.
But the internet is a wide world, and digital marketing is an eclectic profession. Sometimes one marketing automation system — no matter how robust — just isn't enough. In fact, research suggests marketers on average use 12 distinct software tools.
These tools can serve many purposes, like productivity and communication, but most tools are used as a means to generate leads — or at least support the generation of leads. After all, lead generation is what marketers are growing companies are often measured by.
And when you're trying to generate leads, showcase ROI, and propel our businesses forward, every extra tool is important — particularly if they live in mission-critical systems.
Fear not, Hubspot has thought of that. There are currently thousands of integrations just waiting to be installed in the Hubspot App Marketplace.
Here are seven that will definitely help you with your lead generation.
1. Shopify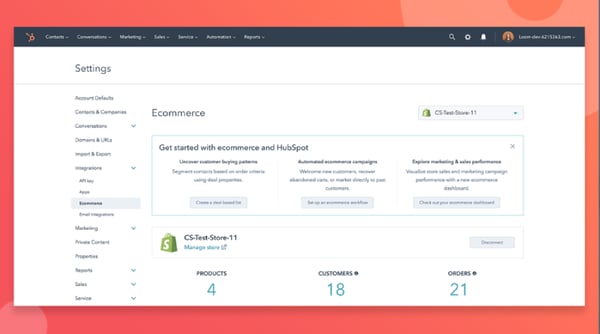 If you're running an ecommerce shop (or three), you may have seen a strong upward tick in sales. According to eMarketer, US ecomm sales jumped 18% in Q2 of this year — almost certainly due to the lockdown measures put in place to curb the spread of COVID-19.
Because ecomm is booming right now, it has to be said that Shopify's Hubspot integration is a lead generation all-star. This integration connects your Hubspot instance directly to your Shopify store, which brings all the good data to Hubspot about your customers: average order value, lifetime order value, abandoned cart recovery, and more.
Not only can you view and analyze this data in Hubspot, but you can also create automations off it. Want to segment customers by product order? Done. Want to create an offer for your VIP customers? Easy.
Everyone knows how important email is to ecommerce, and with the Shopify integration you get the data you need to create hyper-targeted campaigns.
2. Wistia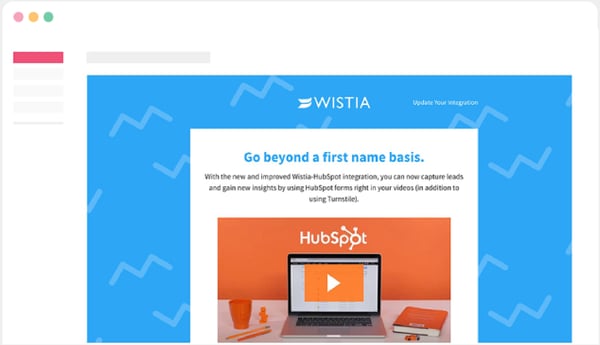 Everyone wants to do video marketing, but not that many marketers have a plan for how to track the ROI of their efforts. That's what Wistia is for.
The Wistia integration grants the power of enhanced video analytics, so you can match someone's video engagement to the campaigns they receive from you. Each contact record will be appended with overall watch time as well as the specific videos they engaged with most. You can even view a heat map of each person's activity as they watched your videos.
Since Wistia is a video hosting platform, you'll also be able to drop Hubspot forms into your videos, making it even easier to convert people from video.
3. Facebook Ads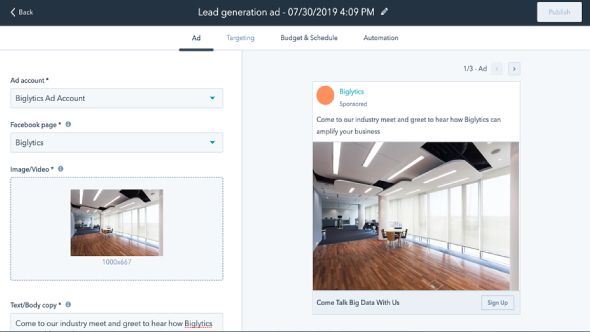 Once upon a time there was a faux pas about Facebook ads. B2B companies in particular assumed that Facebook simply wasn't the platform to advertise their products.
If you've got a lead gen budget, chances are you're spending at least some of it on Facebook. The problem is Facebook Ads can be complicated, so wouldn't it be better if you could manage your campaigns in Hubspot?
If you're nodding your head, then you should probably download the Facebook Ads integration. It imports every lead you generate from Facebook, and brings along all of their engagement data too. You can even create ads from inside Hubspot.
What's more, reporting gets a lot easier once all your data lives in one place. With this integration installed, you'll have all the info you need to analyze the spend vs ROI of every one of your Facebook campaigns.
4. Facebook Messenger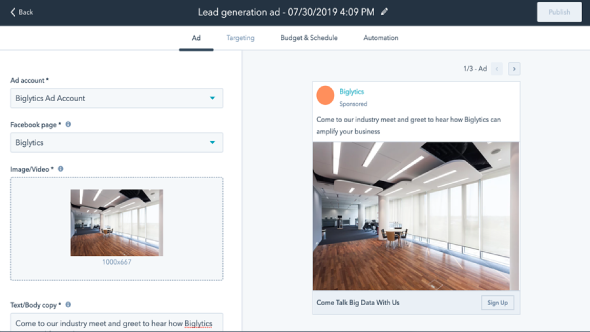 If you're running a Facebook business page, people are probably going to have questions. And that means they're going to message your business with questions.
At first, Messenger probably seems like a customer service opportunity, but look a little closer. Most people that message you on Facebook won't be customers. They'll be people who are curious about your business and want to learn more (perhaps due to one of the ad campaigns you've been running).
This is where Messenger really shines. With this integration, you can build chatbots from inside Hubspot that can direct people to the appropriate page on your website based on their questions.
At that point, you're basically automating lead generation from Facebook. Of course, there will be some trial and error, but most of the stats about Facebook Messenger and lead generation are very promising.
5. Google Ads
Facebook may be the newer lead generation platform in town, but Google still runs the show.
Since you can target specific keywords in Google, the leads coming from this search engine behemoth have the potential to be higher quality. Even if you decide to move up the funnel and capture leads at a different part of the buyer's journey, you're going to want to get them in your database as quickly as possible.
The Google Ads integration is the best way to do that. You can set up your pixel from inside Hubspot, which enables you to create a list of people to retarget based on how they interacted with your website.
And then there's the analysis. Rather than toil through the labyrinth that is Google's Ad Manager, you can use Hubspot's UI to determine which keywords are driving the most revenue and which ads are getting the most clicks.
6. Unbounce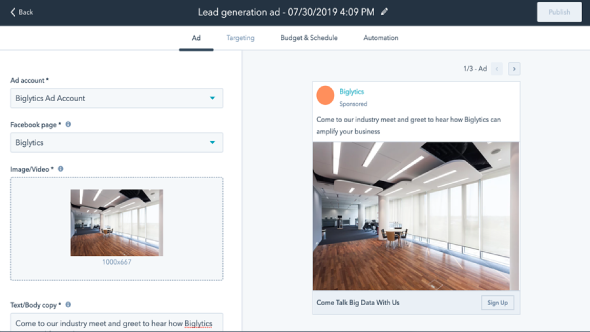 There's an ongoing debate in the martech community about whether it's better to trust the functionality of an all-in-one solution or stitch together a coalition of best-of-breed apps. Kind of like the Galactic Empire vs the Rebel Alliance, just without the whole good and evil thing.
Anyway, hooking up Hubspot to Unbounce equips you with an armory of lead generation weapons. Unbounce's landing page UI offers a metric ton of drag and drop functionality, so you customize your pages without having to get your developers involved. You also have access to Unbounce's Smart Traffic, which helps you run A/B tests and optimize your pages lightning fast.
And of course, there's the pop-ups, sticky bar, and other lead generation tools. Does Hubspot do some of these same things? Yes, but not to the degree that Unbounce can. And that's not a slight against Hubspot; it's just the choice at the heart of all-in-one versus best-of-breed.
Sometimes you just gotta bring in the specialists.
7. Seventh Sense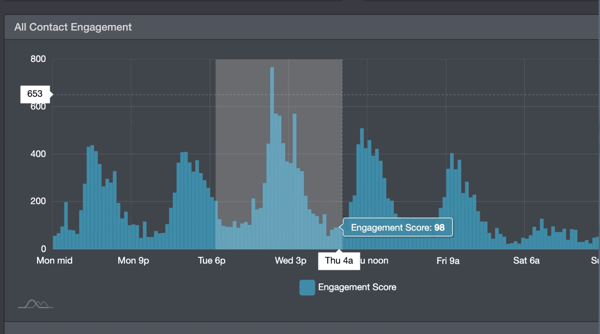 Any marketer who's spoken to a sales person knows just because someone fills out a form doesn't mean they're a good lead.
That's why we do lead nurturing to turn those contacts into actual leads. A lot of this work is done through email. But email analysis isn't always the easiest. Going beyond open rates and clickthrough rates takes more than a little digging.
That's why apps like Seventh Sense are so valuable. This software uses AI to analyze your historical email performance and recommend opportunities for optimization. Sending time is an excellent example. Sure, it seems easy to say, "Let's send these emails in each recipient's time zone, but what about specific times in each recipients' time zone?" Meta, right? You could figure that out with a lot of work, or you could let Seventh Sense tell you what works best.
If you're sending a lot of email, hooking this integration up to your Hubspot instance could transform your email nurturing campaigns.
There's an array of integrations you can use with Hubspot. There are thousands of options in the App Marketplace. But if you want to improve your lead generation, the seven integrations mentioned above are excellent places to start.
And as digital marketers, don't we all want to improve our lead generation?
Zach is the content specialist at Soundstripe, a company that produces epic music and other tools that help creators with YouTube monetization.