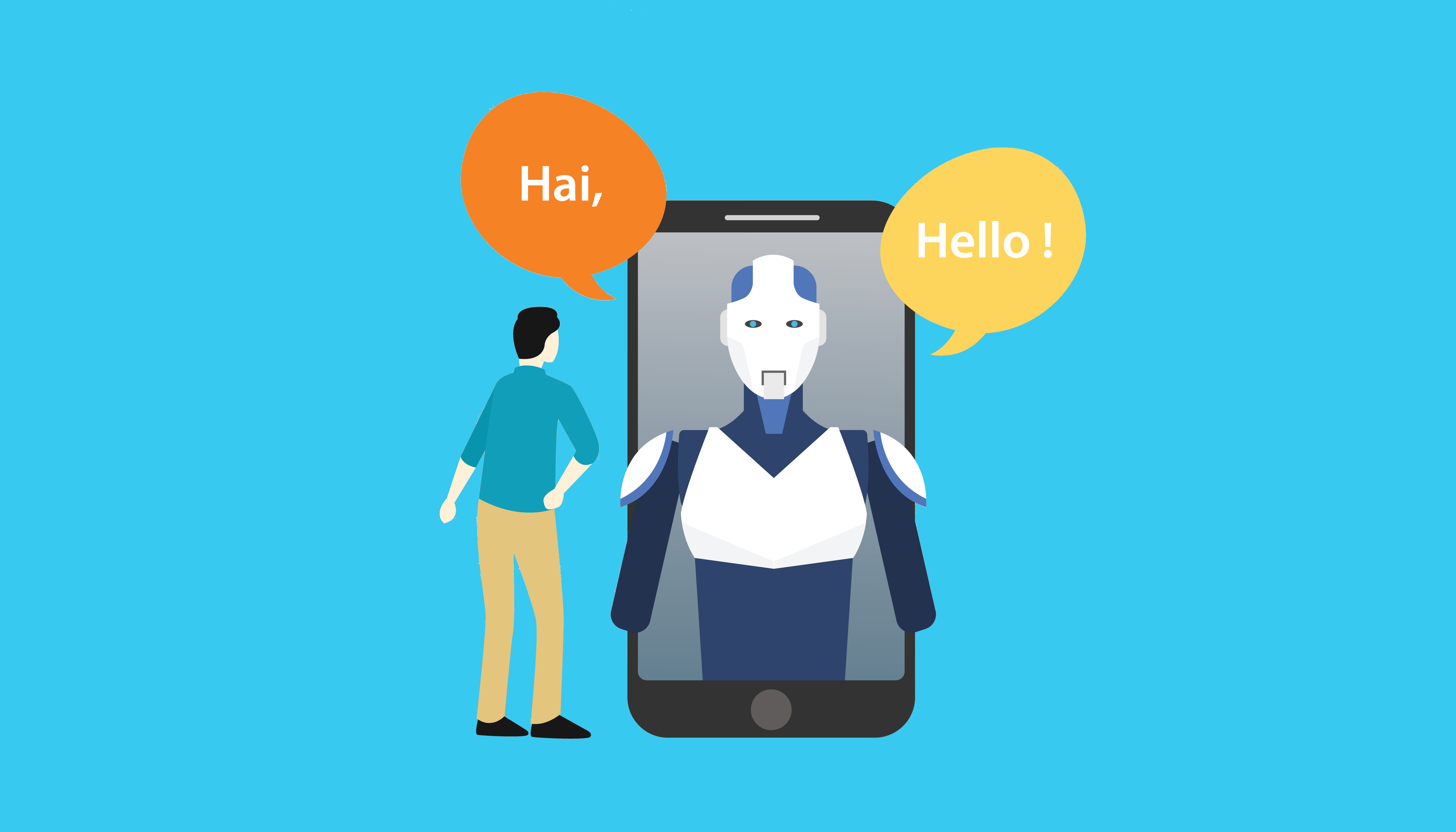 Chatbots are changing the way businesses are interacting with their customers, and it goes way beyond basic customer service.
According to a study by Ubisent, 35% of customers want to see more businesses use chatbots, and that number is growing.
This is due to their quick response times, convenient customer service features, and other amazing capabilities.
They're getting smarter and more versatile as the technology becomes more and more powerful. They're now able to handle sms, web chat and messenger marketing campaigns.
Implementing a chatbot can help your business go from being a lowly donkey to an incredible unicorn brand.
These are just some of the many ways your business can use chatbots effectively in 2020.
Expanding Contact List to Generate Leads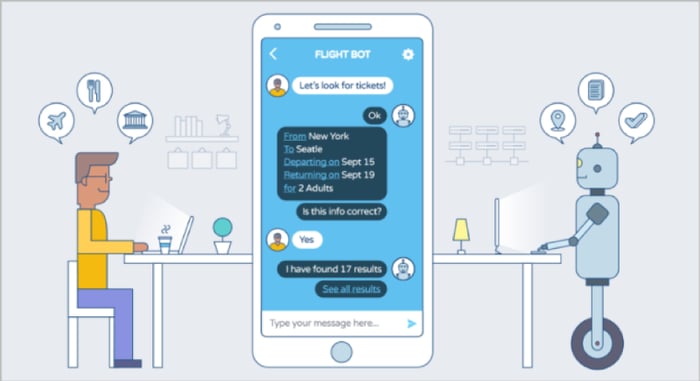 Whenever someone responds to your chatbot, they're automatically opting in to your contact list.
You can take that further by using various techniques to bring in as many contacts as possible and turn them into leads.
For instance, there's the Comment Guard autoresponder that lets your chatbot message whoever interacts with your content.
You may also use Click-to-Messenger ads to bring interested people in and have them choose to opt-in to be updated about your brand.
A product giveaway is also a good tactic as people like getting free stuff and it gives them a risk-free way to try out your product.
A fully-featured chatbot like MobileMonkey (for sms, web chat and messenger chatbot) can be made to do all these things to grow your contact list.
Personalized Chat Blasting Drip Campaigns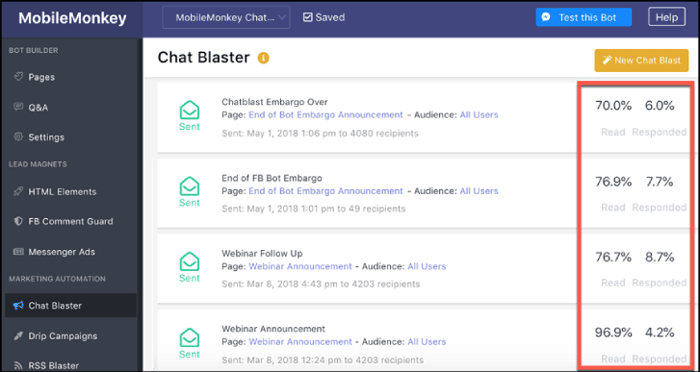 Once you have your leads in your contact list, there's your chance to showcase the voice and personality of your brand.
Since they've opted in, they should be fairly receptive to your chat blasts, so you can bring them into your drip campaign.
You can send GIFs, images, and entertaining copy to connect with them and create trust with your brand.
Sending chat blasts twice a week is a good interval, letting you update your audience about your brand without getting too annoying.
You then lead users through your funnel, all the way down to conversion, with personalized messages that change according to their responses.
This will make them feel special, which will make them want to open your messages and engage with your brand.
This is much easier to do in a platform like Messenger since they chat with their profiles, thus you know who you're talking to.
That also makes it easier to optimize their customer journeys, which makes it more likely to convert them all the way through.
Qualifying Leads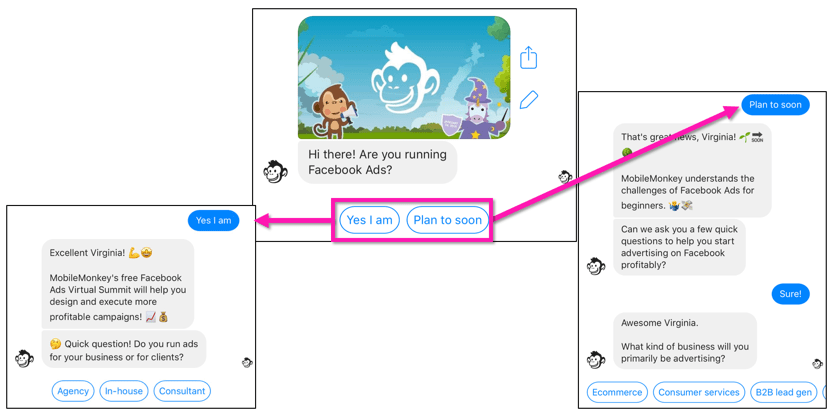 Chatbots make it easy to follow up on contacts and ask them questions to screen them on their interest in your brand.
The question can be as simple as whether they're interested in a product or are doing something related to it at the moment.
You can then present choices for their answer, like "Yes," "No," and "Maybe."
If they do respond with an affirmative, you know they're interested from both their choice of answer and their willingness to engage.
Those who don't engage are definitely no longer interested, and those who answer negatively or are on the fence are also not qualified as leads.
Easy Ordering and Checkout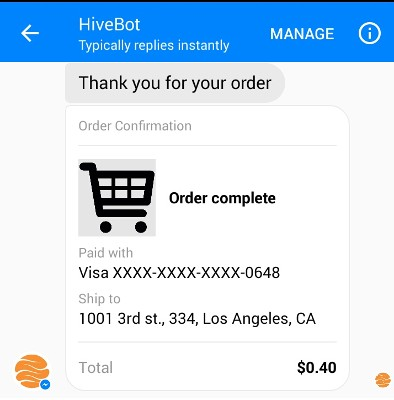 Your chat can be an even bigger part of the customer experience by letting them order products and make transactions in it.
This makes your checkout process even more convenient as they won't even need an app to get what they want.
Ecommerce and service businesses have been doing this in recent years to great effect.
For instance, big ride sharing services now allow users to book rides through chat, wherever they may be.
Their chatbots process their orders, assign the cars, and can even give updates on how close the ride is.
Food delivery services can receive orders and even payment through chat, and update users on delivery status as well.
Having that option available lets users be able to order in a pinch or even have it become their preferred method of ordering.
You can also have your chatbot follow up on abandoned carts, thus giving customers another chance to change their minds and convert.
Order Status Updates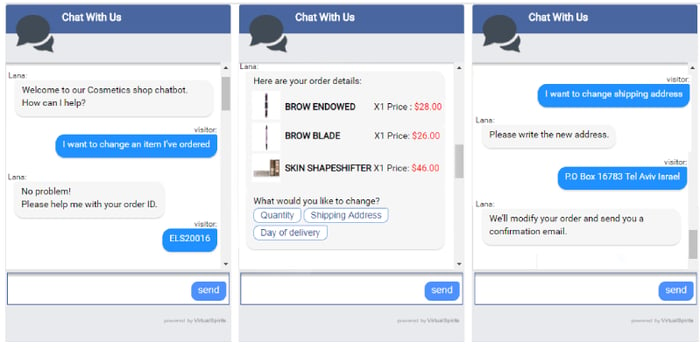 Whether you like ordering and checking out through chat or not, you're sure to like being able to get status updates through chat.
This lets users not have to open the app every time they want to check on the ETA of their product delivery.
Since people open their messaging apps more often, this can be a more convenient option for getting a heads-up on where a ride is or when a delivery is due to arrive.
Some services may even let you modify parameters like the address, add special requests, or even cancel and refund right in the chat.
Providing this convenience can help with bringing in and retaining more customers in the long run.
Product Recommendations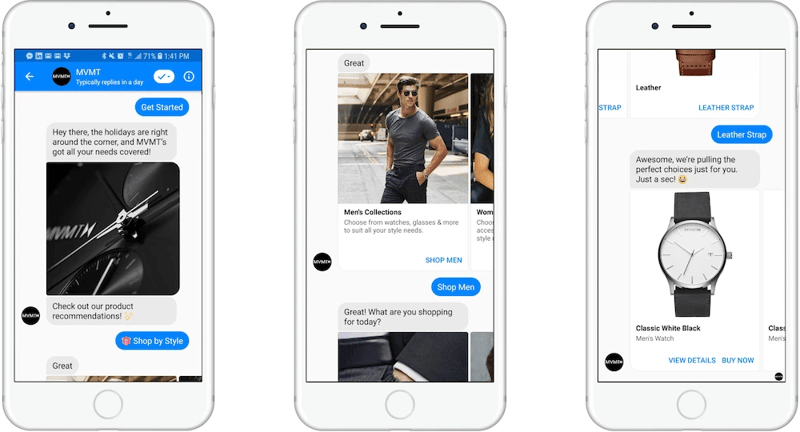 You can have your chatbot include product recommendations based on the customer's buying history.
This is yet another way you can increase your chances of getting a repeat conversion, thus increase a customer's lifetime value.
It's best to recommend something that other customers tend to buy alongside the customer's last purchase.
If it happens to be a product that works alongside it, then that's certainly something worth recommending.
You can also add in coupon codes and promos to sweeten the deal even further.
Automating Customer Service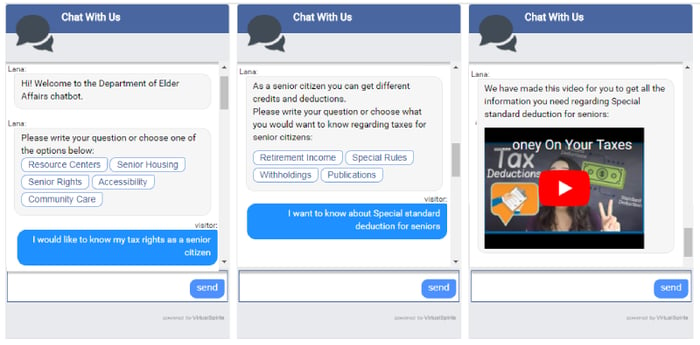 Of course, this is the most obvious and well-known use for chatbots, but it goes beyond just answering questions.
Simple problems and frequently-asked questions can be handled entirely by the chatbot easily enough.
That's made even easier by providing choices to tap on for every response, thus letting the chatbot guide customers step by step.
If there's a question or issue that it's unable to properly assist with, then live chat takeover lets a human customer support representative take over.
As one of the most well-known uses for chatbots these days, this process has been fleshed out and standardized to an exact science.
Receiving Customer Feedback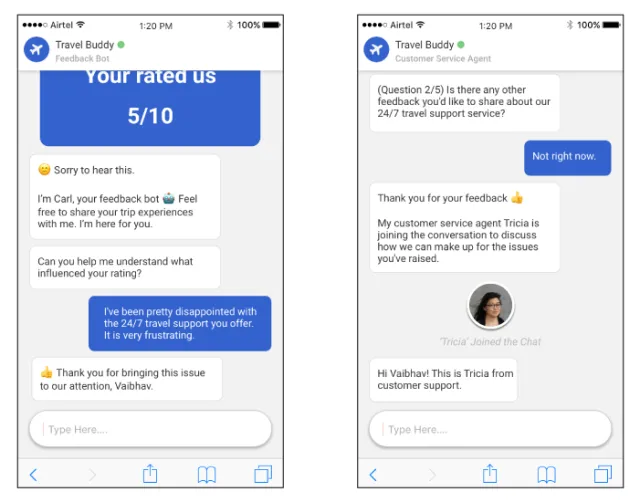 One of the most crucial processes for growing a business is receiving customer feedback.
Not only do reviews and testimonies affect the reputation of a brand, but it can also provide insight on how to improve and grow.
A chatbot can be made to receive feedback in various ways, including surveys, reviews, suggestions, and so on.
Ask for it as a call-to-action from customers, both those who've been converted and those who you're trying to convert.
You can ask leads on what will make them want to convert, whether it's a discount, freebie, or just a change in product or service.
Learn what you can from those who matter most to your brand—your customers.
The chatbot can be made to receive and filter through them, so you read the ones that are most helpful.
Conclusion
These are just the tip of the iceberg as more businesses are finding new ways to incorporate chatbots into their operations. If you're looking for the best chatbot for your business, check out chatbots.org for recommendations.
Using chatbots wisely can yield near-infinite possibilities in simplifying processes and engaging with audiences without splitting hairs.
Chatbots have certainly become the most powerful automation marketing tool now and in the foreseeable future.
Author's bio
Larry Kim is the CEO of MobileMonkey, the World's Best Facebook Messenger Marketing Platform and free chatbot builder. He's also founder of WordStream, Inc., the leading provider of Google Ads, Facebook Ads and keyword tools used by over a million marketers worldwide. Larry is ranked the #8 most popular author on Medium. He's a contributor to CNBC and Inc. Magazine.