#RubikTuesday was the second fun viral campaign organized by +Plus Your Business that ran on 28th March 2014 (the 40th anniversary of the Rubik Cubes invention by +Erno Rubik.
NOD3x data mined all the posts as they happened in Real-Time and analysed the results.
What is NOD3x – a quick overview?
NOD3x is a real-time data mining (content discovery) and SNA (social network analysis) that is free to the Google+ community. It tracks and indexes all posts talking about a specific topic on Google+ posted to the public timeline and/or public communities from either personal profiles or Google+ pages. We also index posts made to Twitter, Facebook, YouTube and 250k media sites across the web.
Once we have the data we analyse:
[list-arrow]
Posts statistics (how many in total, how many contain links, the interval between posts etc)
The share of data (which social platforms have the greatest volume of posts relating to this topic – e.g. Google+, Twitter, Facebook)
Who are the most influential profiles discussing this topic
What is the gender split discussing these topics
Are there common words being used by people when discussing this topic
What geographic locations are people posting from
What is the sentiment analysis (positive, neutral or negative) of the posts being made
[end-list]
All of the data is then visualized within a real-time infographic dashboard, where a user can see at a glance what is taking place.
In an additional visual, NOD3x.com analyses relationships between people posting content and the engagement taking place on those posts. These are visualised through coloured dots (nodes) and lines (edges)
[list-arrow]
Blue for the original post
Dark green for a public re-share
Light green for a private re-share
Lilac for a comment
[end-list]
Orange for a +1
Who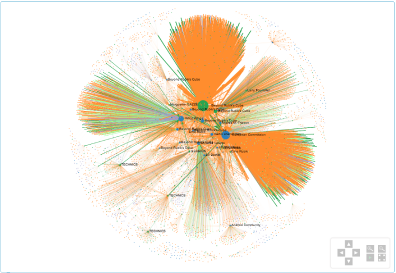 Without a doubt, you can see that #RubicTuesday struck a chord with people on Google+. But what caused this amazing amount of engagement?
140 original posts were made on Google+ during the #RubikTuesday campaign, with 112 individual people posting that content.
48 of those posts contained links to external content.
But that is just the beginning of the story…
Those 140 posts created a flurry of engagement:
Total Activities: 6310
Activity Relationships: 7351 (re-shares, Comments and +1's)
[list-arrow]
140 posts
976 re-shares
822 comments
4,375 +1s
[end-list]
To put things into perspective,
1:7 posts to reshares
1:6 posts to comments
1:31 posts to +1's
Some posts obviously received a higher proportion of that engagement – in fact 5 posts (and one re-shared post) generated 80% of the activity, the following graph shows all the 140 posts and 976 re-shares.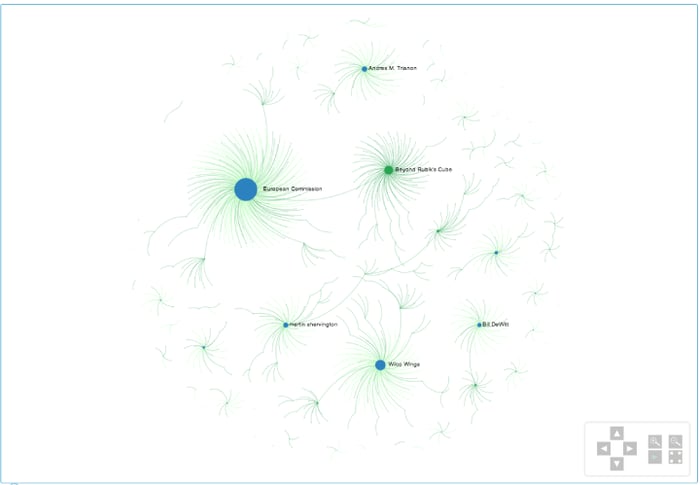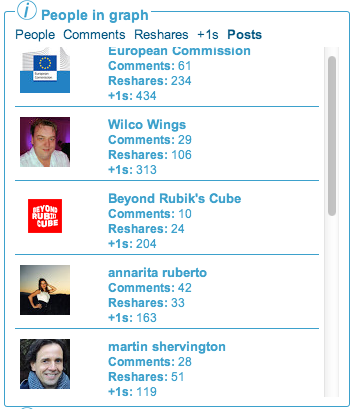 We identified that those five posts followed the Viral 5 W's and because of that received higher levels of engagement: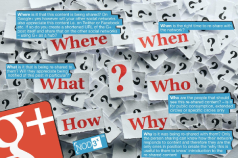 +Martin Shervington manually inserted the #RubikTuesday hashtag into his post. This hashtag then went on to trend in G+ and subsequent posts were auto tagged by Google+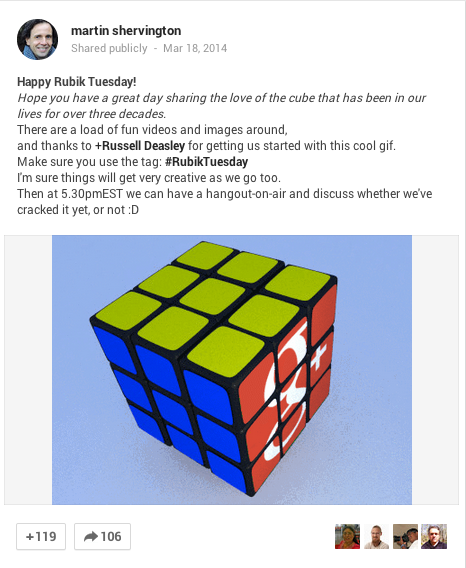 +Wilco Wings' post was auto hashtagged by Google+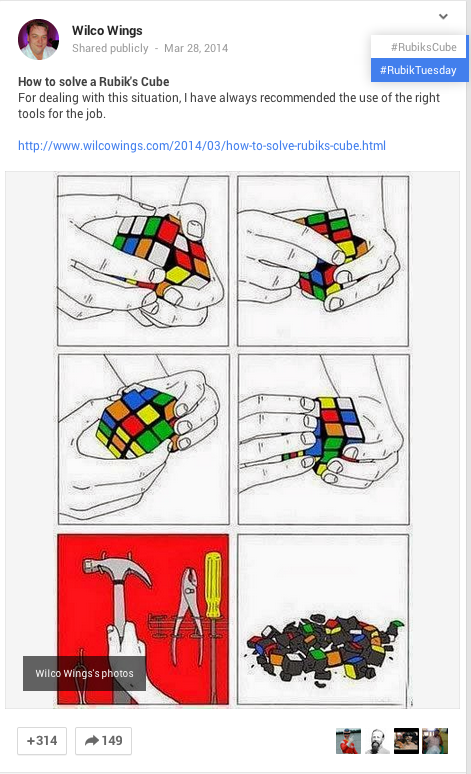 +Bill DeWitt's post was also auto hashtagged by Google+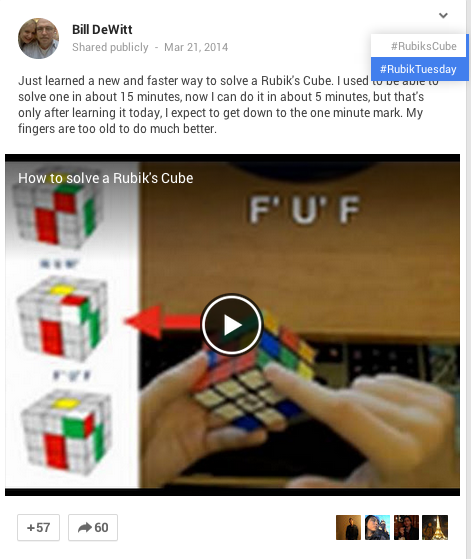 Even the +European Commission got on board with the 40th anniversary of the Rubik Cube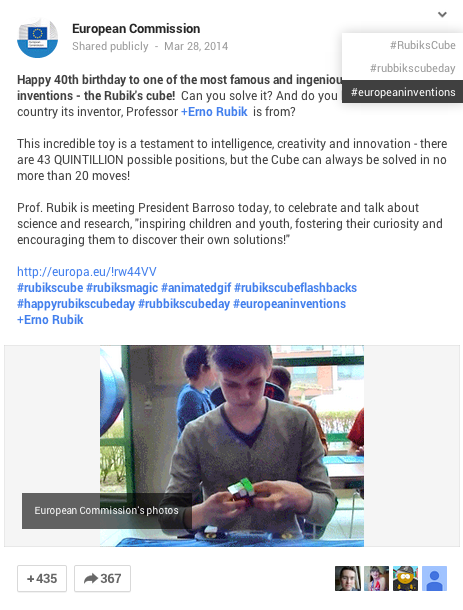 The re-share by +Beyond Rubik's Cube (https://plus.google.com/u/0/+BeyondRubiksCube/posts/LKjCKukpwGD) is the anomaly here, as they didn't include any additional commentary with their re-shared post. However, they do have over 1.9 million G+ followers who are obviously very engaged with the content they share!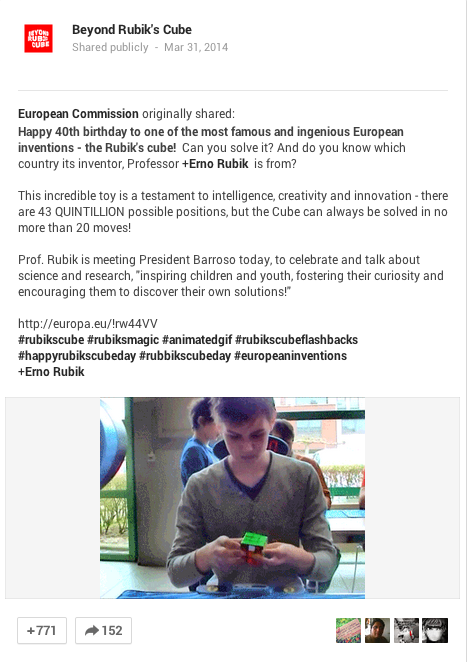 Hashtags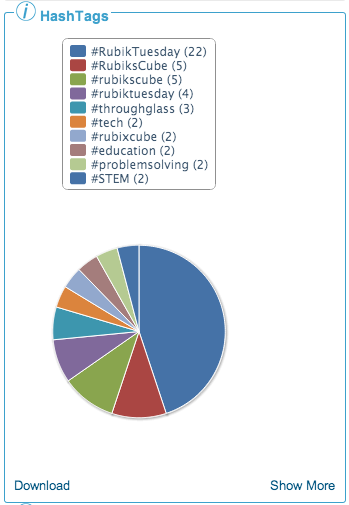 As with the #PlusTheZuck campaign, some posts hijacked the #RubikTuesday in an obvious attempt to create visibility to completely unrelated content. But as you can see, their attempt to generate interest failed: no engagement whatsoever!
These attempts by spammers are futile on G+.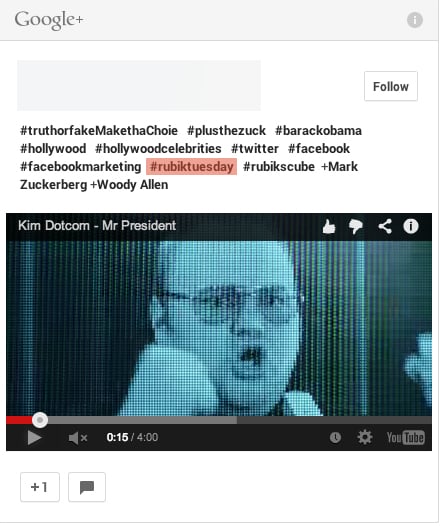 Days of the week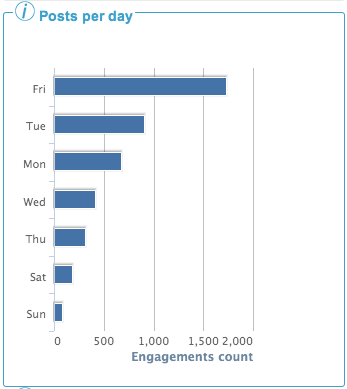 What is particularly interesting here is that even though this campaign ran on a Tuesday, the majority of the engagements took place on the Friday!
There are of course questions that come to mind:
Why did this happen?
Were people to busy to engage on the Tuesday, but were reminded or remembered the posts from 3 days prior?
Due to the content, could it be that in the workplace Friday is the day people are permitted to engage on non work-related content
They went away and played with their own Rubik's Cubes for 3 days then came back and celebrated (!)
Trending
This is how it looked throughout the campaign: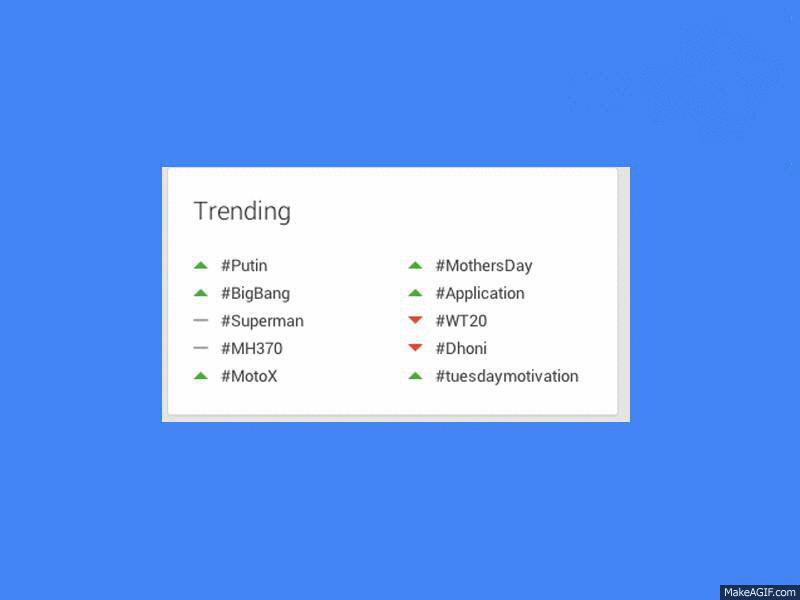 Top Ten Posts (based on Reach)
For those of you that like statistics, we've implemented various metrics now into NOD3x that include Google+ View Counts.
From the table below, you can see each posts individual stats as well as the reach of their post – along with a summary of how much engagement each received AND how many times each of them engaged with other content that we indexed.
As any good mentor should, +Martin Shervington leads by example. Not only does he receive high amounts of engagement but also engages on other peoples content as well!

And finally…
So what can we learn from all of this? The Rubik Tuesday campaign was very carefully schedule to coincide with the 40th Anniversary of +Erno Rubik's invention of the cube. He himself also took part – I mean c'mon… it doesn't get better than that!

If you're planning on a running a viral campaign on Google+:
Do your research! Are there any dates that will help boost what you're trying to achieve!
Be creative. Make sure you have a captivating video or image. No excuse not for having an image with every post now thanks to applications like +Canva!
Ensure you have an initial 'seed' group of people who's followers will engage with the content being put in front of them.
Follow the 5 W's of Viral Understanding when posting or sharing content
Take the time to thank people that engage on your content AND with those that re-share your content.
It's also advisable to engage on others content that you haven't been involved with, it will help boost overall awareness. That being said, don't link bomb, when I said engage on other's posts I meant with their content… Don't promote your own! If you add value to their posts, people will naturally gravitate to yours. Think laws of reciprocity.
Don't hijack (spam) hashtags!
We hope you found that useful and get in touch with us here to discuss using Google+ for business.