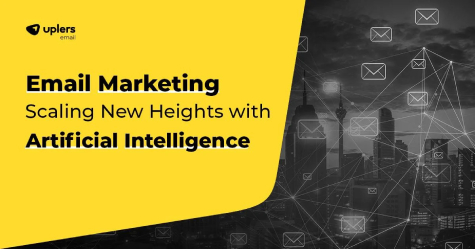 The popularity and effectiveness of email marketing are growing day by day. It can be deciphered from the fact that 59% of marketers find email marketing to be their biggest source of ROI. In fact, email marketing is scaling new heights of success with the incorporation of AI. Do you know email marketing campaigns backed with AI improve revenue by 41.29%?
So, if you wish to improve your email marketing efforts, it is high time you combine it with AI. Simply put, it can work wonders in enhancing your email strategy and generating unmatched results.
AI helps email marketers in managing customer data and customer expectations by automating the collection, verification, and organization of data, thereby driving better targeting and facilitating relevant results.
In short, email marketing with a combination of AI has the ability to increase efficiency and reduce cost while improving customer experience and revenue growth. Hence, AI is all you need to make your email marketing strategy top-notch. Here's how AI can help you do the needful.
1.
Personalized recommendation
AI takes the help of algorithms to recommend relevant products and services while reacting to behavioral changes as soon as possible. For example, if a subscriber checked the prices of sports shoes, you can offer this category in the recommendation section the next time you conduct a campaign.
2.
Optimizing email frequency
AI assists in maximizing the customer response by analyzing the number of subscribers who have opened and clicked through your email. This, in turn, helps in scheduling emails at the right frequency, thereby avoiding multiple unsubscribes. For instance, if a contact opens your emails regularly, they will receive your email once a week. However, subscribers who just check one out of 5 emails will receive lesser email campaigns.
3.
Facilitates product prioritization
AI can work wonders in helping you prioritize your products through an AI algorithm. For example, if a subscriber spent 4 sessions looking at the summer wear section and only 1 session checking summer essential skin products, the first displayed product recommendation would be a summer dress from a new collection followed by a sunscreen cream.
4.
Promotes high-end segmentation
AI takes into account average transaction value along with general purchase frequency to facilitate high-end segmentation. In this context, you can offer your subscriber base product of the same range. However, the price categories can be different. After all, if a customer's purchase never exceeded $40, there is no use recommending luxury products to them. But if you have a customer who spends $250 on a limited edition product, you can leverage this opportunity and offer them a VIP loyalty program.
5.
Works on time preference
While some of your contacts might read your email early in the morning, others might open your email during their commute to work. You can take into account their preferences with the help of an AI algorithm and create a sending schedule based on each subscriber's preference.
Wrap up
Depending upon your business's goals and objectives, AI can help you ace your email marketing strategy in a lot of ways. From studying and analyzing the customer's behavior to enhancing campaign automation, AI can help you do it all and facilitate the sending the right offer at the right time to the right subscriber. So, start by leveraging the capabilities of AI for improving your email marketing strategy.
You can have a detailed look on the revolution AI has brought in the world of email marketing through an insightful infographic created by Email Uplers: The AI Revolution in Email Marketing.

About the author:
Kevin George is Head of Marketing at Email Uplers, one of the fastest growing custom email design and coding companies, and specializes in crafting professional email templates, PSD to HTML email conversion and free responsive HTML email templates in addition to providing email automation, campaign management, and data integration & migration services. He loves gadgets, bikes, jazz and eats and breathes email marketing. He enjoys sharing his insights and thoughts on email marketing best practices on his blog.