A CRM is every stakeholder's (and especially a salesperson's) dream come true in today's digital era. Nothing beats the sense of convenience and control of having a dashboard that monitors every aspect of your customer-facing business.
Talking about CRM, the HubSpot CRM is the most rounded and well-packaged product of them all. If deployed correctly, it would help you keep your business ahead of the curve in most cases. But are you making the most out of it? No matter how long you have been using this tool, the chances are that there is still something left to be leveraged.
Hence, today we will know about some subtle yet substantial practices to get the most out of your HubSpot CRM. Let's get started!
Know the exact time to call a contact
A 2017 study by CallHippo revealed that there is "The response rate has been seen to drop dramatically by 8 times after the first hour. The difference between the number of responses in the first hour to the number of responses in the second hour was a whopping 450%."
Hence, if you have deployed an email extension tool, and have turned on the open email notifications, then the HubSpot CRM would let you know the exact right time to call your contact. Moreover, if your mail is opened more than three times by a contact, they're likely to be interested in what your email offers, so give them a call directly.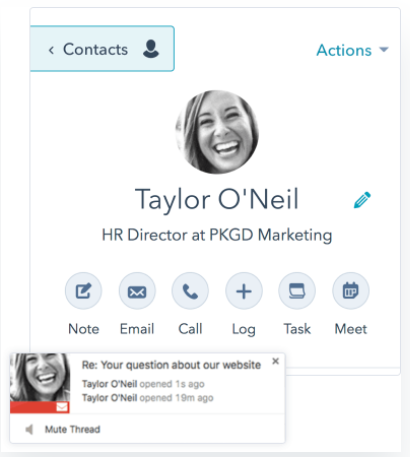 Keep track of your sales progression
Not only does the HubSpot CRM keep track of contacts and companies, but it also monitors every potential sale as well. These sales records are known as deals, and they reflect the progress of each sale.
Deals give you information about the sales that are long-lasting in the sales process. Hence, they enable you to focus more on the ones that are most likely to close soon.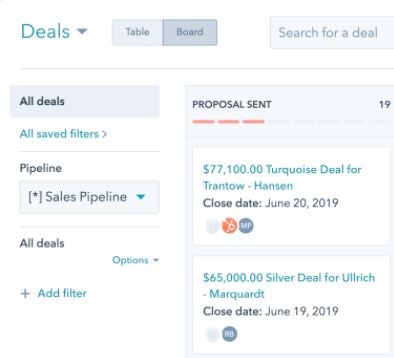 Leverage email extension tool for timely delivery
An email marketing campaign is all about nurturing your prospects, and it is imperative to have an impeccable sales communication channel to convey the same experience to the end-users. HubSpot's email extension is the best tool to do so. You can link it directly to your Gmail or outlook account, and it will analyze how well your email is performing. The tool also sends you notifications whenever someone opens your email so that you can strike a conversation with them just in time.
The email extension tool also retrieves your contact's data from the CRM, which helps you check your content's relevancy before sending it to them. It will also mention the latest tweets of your contacts who have a Twitter handle.
Still, having data is one thing but leveraging it effectively is a different game altogether. HubSpot CRM lets you make the most out of it. The tool enables you to schedule your emails, thereby ensuring that your emails are being sent when they make the most impact.
Nurture your contacts
The times are changing rapidly, and email marketing is having a hard time keeping up. Thankfully enough, tools like HubSpot CRM make things easier by keeping contact records inside. Each contact record keeps a complete track of everything that contact has done on your website. Not only this, but the tool also provides insights about every interaction that marketing, sales, and service you might have had with them.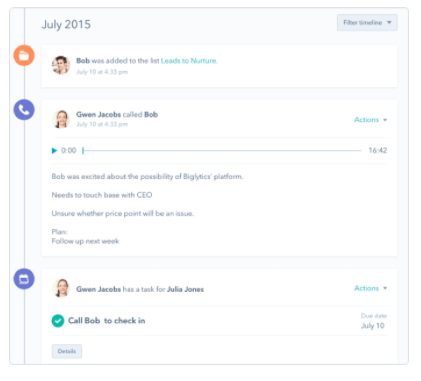 Make calls from HubSpot CRM
Most of the time of an average salesperson goes into talking to contacts on the phone. However, once the conversations end, they are left with scribbled notes about what they talked about. This practice can be cumbersome and a big setback for efficiency.
One great way to do so is to make calls directly from HubSpot CRM. You can use your computer's microphone and speakers, or even smartphones if it's registered to HubSpot (which itself is a one-minute job). The calls you make through HubSpot are recorded, eliminating the tedious task to make notes. However, you should always notify and seek your contact's permission before recording the call.
Enhance transparency with reports
As per a report, "23% cited entering data as their biggest challenge when operating their CRM." Save those precious hours and also maintain the best transparency levels with HubSpot CRM's reporting features. They translate your data into meaningful visuals, which can be easily understood.
You can accomplish so much with these reporting features, such as creating reports on closed deals, rep activities, funnel stage, or monitoring any other specific relevant metric. The reports are easy-to-access reports and can be completely customized. Most importantly, your HubSpot CRM and HubSpot's Reporting Add-on let you track down metrics like:
Companies closed per month: The companies that became your customers in a given time.

Productivity: It collects all your CRM engagements into one place and lets you filter by rep and by date to tell how much tasks the team is performing and how often it is using the tool.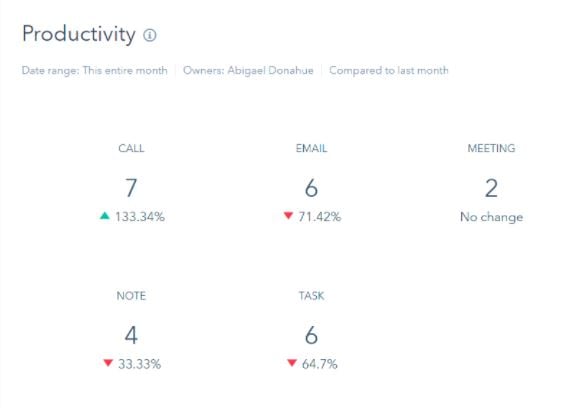 Deal funnel report: A centralized view of the progress your every sale is making.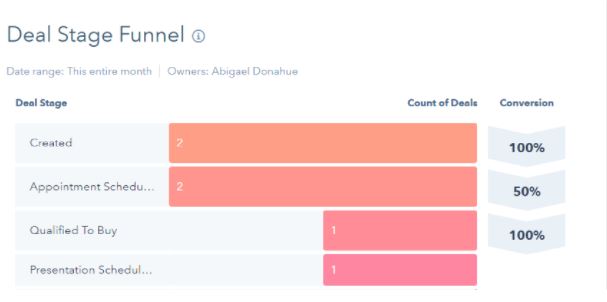 Wrapping Up
The struggle with email integration is a thing of the past. Now we have templates that accelerate even the high-volume processes. No matter where you stand in your brand's lifecycle, HubSpot CRM has something for everything. Whether you're adopting your first CRM or have been using it for a long time, following the tips mentioned above would definitely help your business scale new heights. So, what are you waiting for? Embrace this wand of magic today and give your customers a one of a kind experience.
About the Author
Kevin George is Head of Marketing at Email Uplers, one of the fastest growing custom email design and coding companies, and specializes in crafting professional email templates, PSD to HTML email conversion and free responsive HTML email templates in addition to providing email automation, campaign management, and data integration & migration services. He loves gadgets, bikes, jazz and eats and breathes email marketing. He enjoys sharing his insights and thoughts on email marketing best practices on his blog.