While creating content, many brands, businesses, or entrepreneurs get a little stuck. What can one create, in terms of content, that digital hasn't already taken advantage of?
The answer to that is smart content. Smart content is one of those content marketing hacks every business needs. As per its definition, your content marketing strategy needs to be focused on creating content that is useful and relevant to a chunk of your audience.
Smart content aims to do that, with a little twist. It's a relatively new term, and its potential is still unexplored, for the better part.
But what is smart content? And how effective could it be?
Smart Content: A Definition
If I had to define this term, I would say that smart content is the type of content that marketers would use to keep the user's attention on them and their brand.
It's the type of content that won't just be consistent with your buyer personas, as your content is traditionally supposed to be, but it will look and feel personalized to each visitor of your website.
To create smart content, a marketer will need to take a good look at their data. Behavioral, demographics, psychographics, all types of data are necessary to create that personalized look and feel: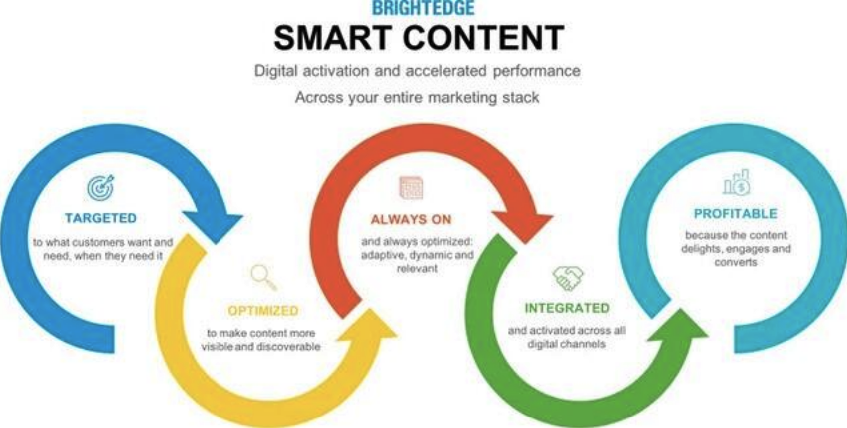 (Source)
The result will be content that resonates with your audience on a whole other, more personal level, which, like any useful content writing guide will point out, is a step you can't afford to skip.
But with all that, there is the ever-present question: Why and how can one create and use smart content to bring back conversion?
Why Do You Need Smart Content?
Smart content is, as mentioned above, content that changes according to the viewer. This fact alone is responsible for creating a personalized message and, in the end, an overall personalized experience.
Knowing how to write content that will resonate with your audience and knowing how to deliver a strong message isn't the only thing that matters in our case. Smart, personalized content that resonates with every one of your visitors is all your brand or website needs, rather than static content.
But the question remains: Why is it needed that much?
Better Targeted Messages
The purpose of targeting is to engage those website visitors or email openers or any other valuable prospect that a brand or service deems valuable. And vice versa, as the ones that will find value in your product or service need their highly targeted messages, too, to be eased down the sales funnel.
Smart content will allow you to target the prospects with content that will be specific, tailor-made, and will be providing answers to their needs. HubSpot, one of the best-known tools for creating smart content, states:
"You can use smart content to target your website pages, landing pages, emails, CTAs, and forms based on specific criteria you have stored about your contacts. Smart content alters the content displayed in a module depending on specific viewer characteristics."
Laser-sharp targeting using smart content that delivers messages based on the likes, dislikes, location, age, and other specific characteristics of each prospect is the future. It can and will help make money through your blog, boosting your email's open rates, getting you more traffic, or simply more engagement.
A More Personal Touch
Personalization is what wins the game every time. Let me show you what the numbers say - and numbers never lie: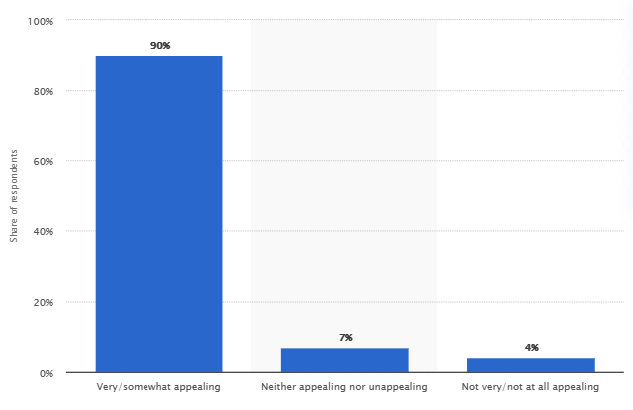 (Source)
According to the statistic above, 90% of the consumers in the US prefer personalized marketing messages. Meaning that without it, you're going to lose the more significant chunk of your audience's conversion - and, of course, your chance to boost your revenue.
Think of it as a customer, first and foremost. All of us appreciate a warm greeting and a tailor-made solution and none of us pays a lot of attention to ads or content with which we cannot relate. Personalized content increases one of the essential metrics for any customer-based business: customer lifecycle. What is more, smart content creates a familiar feeling to the viewer, one that provides solutions and engages simultaneously.
How Can You Create Smart Content?
There are some steps to creating smart content. These steps are crucial to success. Let's see what these are.
Know Your Audience
Who are you targeting, and what are their triggers? This would be the first question a marketer needs to ask. Not knowing the segments you need to set up, and the triggers your prospects will fall for will nullify your entire strategy.
So, study your audience and see what each one's pain points are. Invest in AI and create one-to-one segments.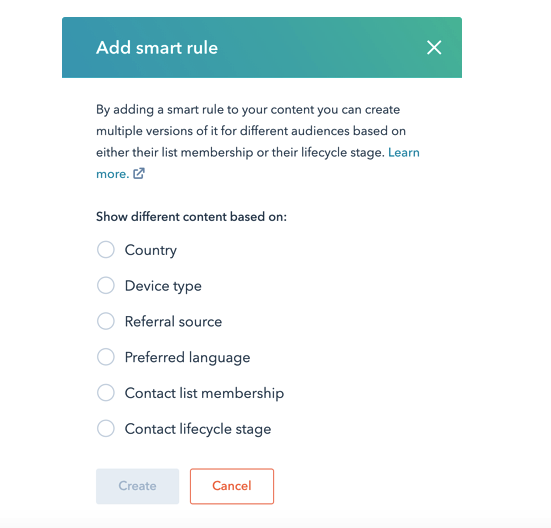 (Source)
A tool like HubSpot can help you choose different criteria for different people to create smart content, thus customizing what every visitor will see. Just select the requirements - or "smart rules" - that meet your needs - location, lifecycle stage, preferred language, etc. - and start targeting.
Knowing the audience and studying your data helps marketers distinguish between the requirements that are nice to have and those they need to use.
But it's not the only thing to keep in mind when creating your smart content.
The Data You'll Need
Your audience and your data are two elements that work together, and one complements the other.
Your data will shape the kind of smart content and your overall user engagement strategy only once you've determined their pain points. Your smart content needs to be determined by the data your users are willing to give you.
Here's what I mean: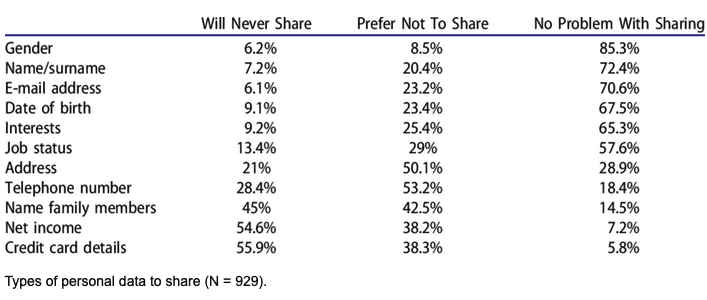 (Source)
If you consider the study above, you will see that basing your smart content on one's gender could be a smart idea, as users are more willing to give up that type of data.
If most of your audience is located in Australia, center your content around Australian weather, for example.
Ask yourself the following questions:
Do I have all of the information I need?
If not, what kind of information do I have?
Can I start segmenting based on the information I already have?
Always use the correct data and marketing messages that will work best for your audience. And always set up proper procedures based on what your CRM tool tells you.
Create Your Strategy
Studying your data and segmenting according to your findings will give you some much-needed boost when creating your user engagement strategy, which is what smart content is all about: User engagement.
Your data will show you what interests your audience. Interests will play a defining role, as far as your strategy is concerned, as these will define the kind of smart content that will be most useful.
Of course, smart content is the website's content as a whole, nor is it an entire blog post. A CTA that changes from one user to the next can help engage specific parts of your audience. Change its content according to the actions each user has taken or their place in the sales funnel. That way, you'll be able to engage them.
You can do the same for every piece of content that is a part of your marketing strategy and actions, from "smart" online forms that use auto-fill to landing page copy, blog posts, or your website as a whole, so long as it makes sense for your prospects.
Keep in mind: You don't need to personalize every little detail, only those that matter. Your data will show you the details that matter, which is why it's so important.
The Takeaway
Many marketers say "Go big or go home", and in our case, going big is creating the smart content itself.
There is no need to create smart content for every nook and cranny of your website or every aspect of your marketing strategy. Start small and work your way up. Sometimes a CTA can optimize conversion and improve your customer's lifecycle.
In the end, memorable content is what matters, and smart content always leaves a lasting impression.
Author Bio:
Téa Liarokapi is a content writer working for email marketing software company Moosend and an obsessive writer in general. In her free time, she tries to find new ways to stuff more books in her bookcase and content ideas-and cats-to play with.