A professional email signature can be one of many tools you use to market yourself or your company. It helps you build a connection with every person who contacts your company.
The last little touch before clicking send on the email adds immense value to your professional communication. It is an opportunity to bring out the distinct voice and style of your brand.
The importance of an email signature can be established through advanced heatmaps and AI-driven attention maps. Research shows that your email signature captures more attention than the body of your email. It is an element that should not be ignored.
In fact, email signatures are a great spot to add CTAs for campaigns that you are running. You can also use the section to drive traffic to your website or blog.
The anatomy of a perfect email signature
Simplicity is the key feature of a helpful email signature format. It must have all elements of a professional email signature, but the information should not be cluttered. Your contact info should be easy for people to find on their own.
It is not a good idea to make them dig through layers of text looking for what they want. Therefore, include the following important information in your email signature:
Social media icons with links to respective profiles
Your complete name to help the recipient recognize you
Legal disclaimer, CTA, or a booking link as needed by your company
Designation and department to give context to the conversation in your email
Alternate communication methods such as contact number, website, and so on

Use a robust email signature management software
An email sign manager allows you to manage and sync your company email signatures on any email service provider — from a central location.
As your business grows in size, so will the number of employees. You will find those managing email signatures and disclaimers for the entire employee base is pretty time-consuming and tedious. You can save yourself the trouble by using a dedicated management tool.
If you have never thought about using one, here is why you should:
Access all employee signatures from a centralized dashboard.
Apply advanced segmentation rules to enable multiple signatures as per each departmental or group requirement.
Allot a different user access to every department to edit and control their signatures.
Track and analyze your signature CTA or banner performance from the backend.
More importantly, design professional email signatures with a dynamic and easy-to-use HTML template editor custom-developed by experts.
Save the valuable time of your IT team as the software can be used even by amateurs.
Although most traditional tools still use the copy-and-paste methodology to install signatures on an email, new and improved G-Suite and Office 365 signature management solutions can auto-sync signatures through API integration.
Now, let us take a look at how you can create a professional email signature:
1. Incorporate company information
It is an excellent idea to showcase your company through your email signature. Add links to your company's news mentions or share announcements related to any awards you have won and/ or industry recognition you have received.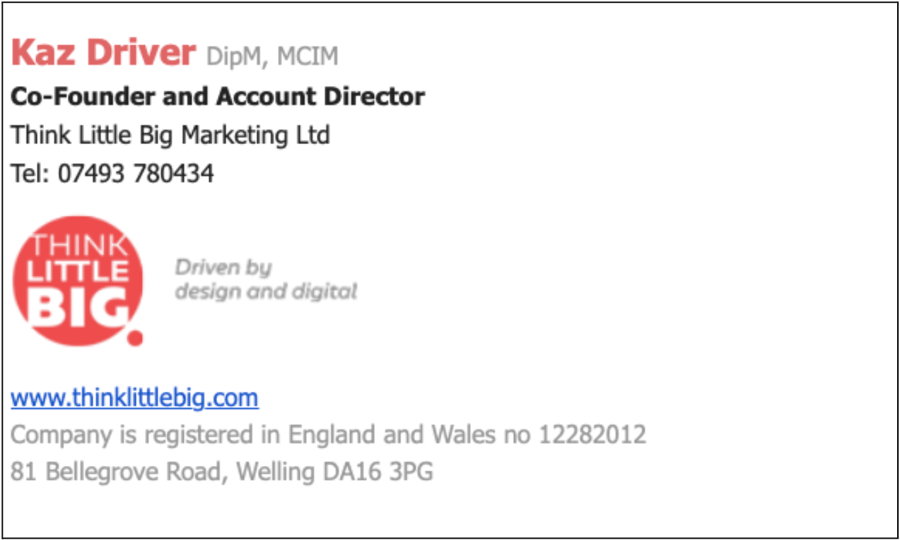 In addition, include an engaging CTA. Depending upon the design and layout of your email signature, you can add a call to action to engage the readers. You can add a link to invite them to subscribe to your newsletter or guide them to your blog.
2. Mention pronouns
Besides your basic contact details such as name, phone number, and email address, adding your preferred pronouns to your email signature can be helpful, especially when you are writing an email to someone new. It also takes the ambiguity away if you have a name that is traditionally perceived as gender-neutral and helps others know how to refer back.

3. Use brand colors
Add colors to your email signature to improve the readability of your email. Your audience is overburdened with information. Research shows that colorful visuals increase their willingness to read text by around 80%.
Emphasize your brand by using one or two colors in the text or graphical elements of your email. Using too many colors, however, may be distracting. Check out how in previous examples, both Think Little Big and Sivansh used their brand colors in the signature.
4. Use a professional image and brand-related logos
Include a professional photo of yourself to make the signature memorable. Though it is not a rule, having a photo improves relatability as the reader can associate your name with a face and remember it. Make it less distracting by adding a small file with only a headshot.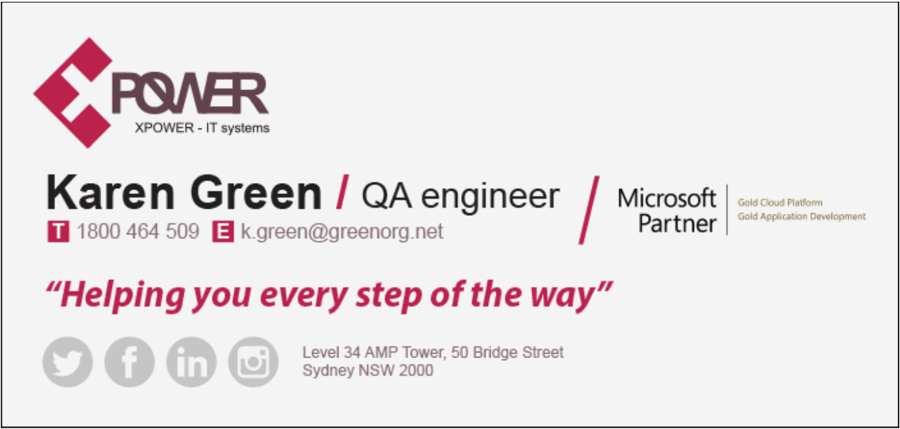 Source
Besides, use your company logo along with showcasing accreditations, if possible. Make sure it does not overpower the text or make it look cluttered. A balanced layout works well to create the right marketing impact.
5. Use the hierarchy of design
Align all other information with your image or logo to create a hierarchy. The signature layout can be decided based on the logo orientation. Use variations like bold, caps, and color to highlight important parts.
6. Display social media icons
Social media plays an enormous role in customer engagement. You can add links to social media platforms where your organization actively engages with customers. It is advisable to add social media icons as they have higher recognition rates.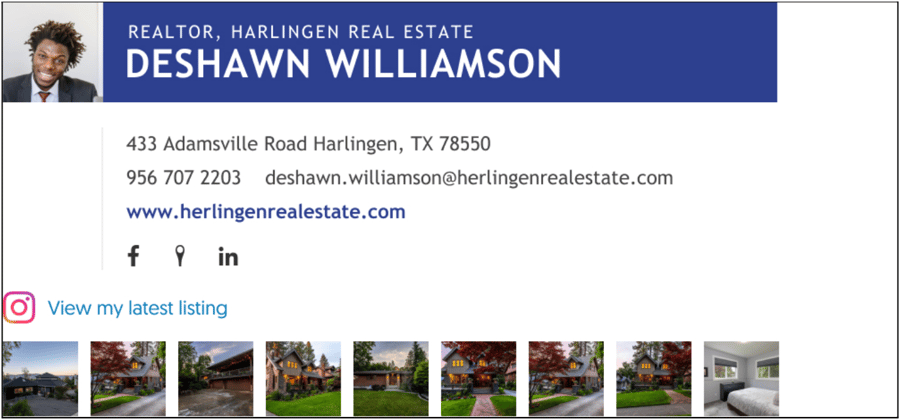 Source
Keep their size small to ensure they do not make the signature look too busy. You can also add these popular icons in your brand colors. Depending on the nature of your work, add a plugin to showcase photos related to the business.
7. Keep it mobile-friendly
Mobile usage is gaining popularity, and according to a study, 73% of marketers are optimizing their emails for mobiles. As more people prefer to read their emails on portable devices like smartphones and tablets, designing your email signature for these devices is advisable.

By designing your signature so that it looks good on both desktop computers and screens smaller than 7 inches wide, you can ensure you are sending something everyone can read.
Over to you
Email is an integral part of organizational communication, and focusing on your email signature makes it an effective communication tool. A well-planned signature establishes how professional and reliable you are as a company.

Make sure that customers can trust the information in your signature by keeping it authentic and trackable. An excellent way to ensure success is by creating templates and testing different versions with readers.

More importantly, use a dynamic email signature management tool to complete all employee signatures from a single dashboard and ensure the branding and contact information are always on point and correct. All the best!
Author Byline
Gaurav Belani is a senior SEO and content marketing analyst at Growfusely, a content marketing agency specializing in content and data-driven SEO. He has more than seven years of experience in digital marketing. He likes sharing his knowledge in a wide range of domains ranging from eCommerce, startups, and social media marketing to human capital management and much more. His work is featured in several authoritative business publications. Connect with him on Twitter @belanigaurav.